ASUM Drive: Your New Digital Content Platform
ASUM Drive, our digital on-demand library, has launched to deliver digital content in a modern and easily accessible way. Our members receive this complimentary and the feedback has been overwhelmingly positive.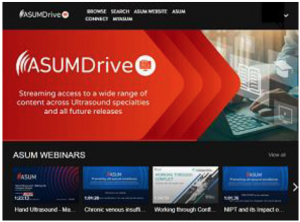 Currently we have uploaded over 500 presentations from conferences and webinars. We will continue to add new content each month. While our members receive this as part of their member benefits, we have recently launched the option for the wider ultrasound community to subscribe to ASUM Drive annually.
ASUM - WFUMB Mobile Centres of Education

Aboriginal and Torres Strait Islander people are at least 125 times more likely to develop Rheumatic Heart Disease (RHD) than Non-Indigenous Australians. RHD takes the lives of two young indigenous Australians each week. Studies have demonstrated the usefulness of echocardiography screening in the diagnosis of undetected RHD. ASUM will launch a pilot for echocardiography training in the new year, focusing efforts on healthcare workers visiting remote communities. We are excited to deliver this program with the expectation of making a significant difference and creating healthier lives for all by driving ultrasound excellence.
AJUM
The Australasian Journal of Ultrasound in Medicine (AJUM) is a multi-disciplinary journal with an extensive international readership. The growth of AJUM continues to accelerate globally with 67% of journal articles submitted by colleagues in Australia and New Zealand, the other third were submitted by international colleagues in India, Sweden, Belgium, Israel, Turkey, UK and USA. AJUM embraces the contemporary practice and practitioners to deliver the latest research and education for all ultrasound professionals.