WFUMB Webinar: COVID era lung ultrasound advances
Takes place on Tuesday, February 23, 2021.  2:00 PM CET

The webinar consisted of Introduction, 3 lectures & summary, with Q&A's and feedback.
Lung ultrasound of COVID-19 and its complications and differential diagnosis will be discussed in the presentations. Also included is the use of contrast enhanced ultrasound, the knowledge of clinical symptoms and past medical history. The objective is to understand Viral pneumonia of other origin, bacterial pneumonia, pulmonary embolism and congestive heart failure (B-line artifacts without pleural changes).
You will have the chance to ask questions of our experts and receive a WFUMB certificate of attendance.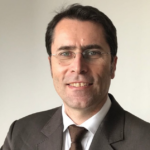 Introduced and chaired by Fabio Piscaglia, speakers for this webinar are below …
Christoph F Dietrich
CoViD Lung US 12 month after
Joanna Jaworska
Paediatric lung- never seen in adults
Mike Blaivas
The sound of water, B-line artifacts