Blog Entry from Peter Coombs 22.08.2019
Thought I'd tell you a little about the new and extended ultrasound services that have come with this WFUMB project. These have made our days considerably busier but it has been very rewarding to see the benefit.
As you know, the project has delivered a Philips Lumify and 2 new transducers for the current Samsung Sonoace X6. (Again a thanks to Philips and the teams at Samsung International and Quantum Healthcare for this equipment)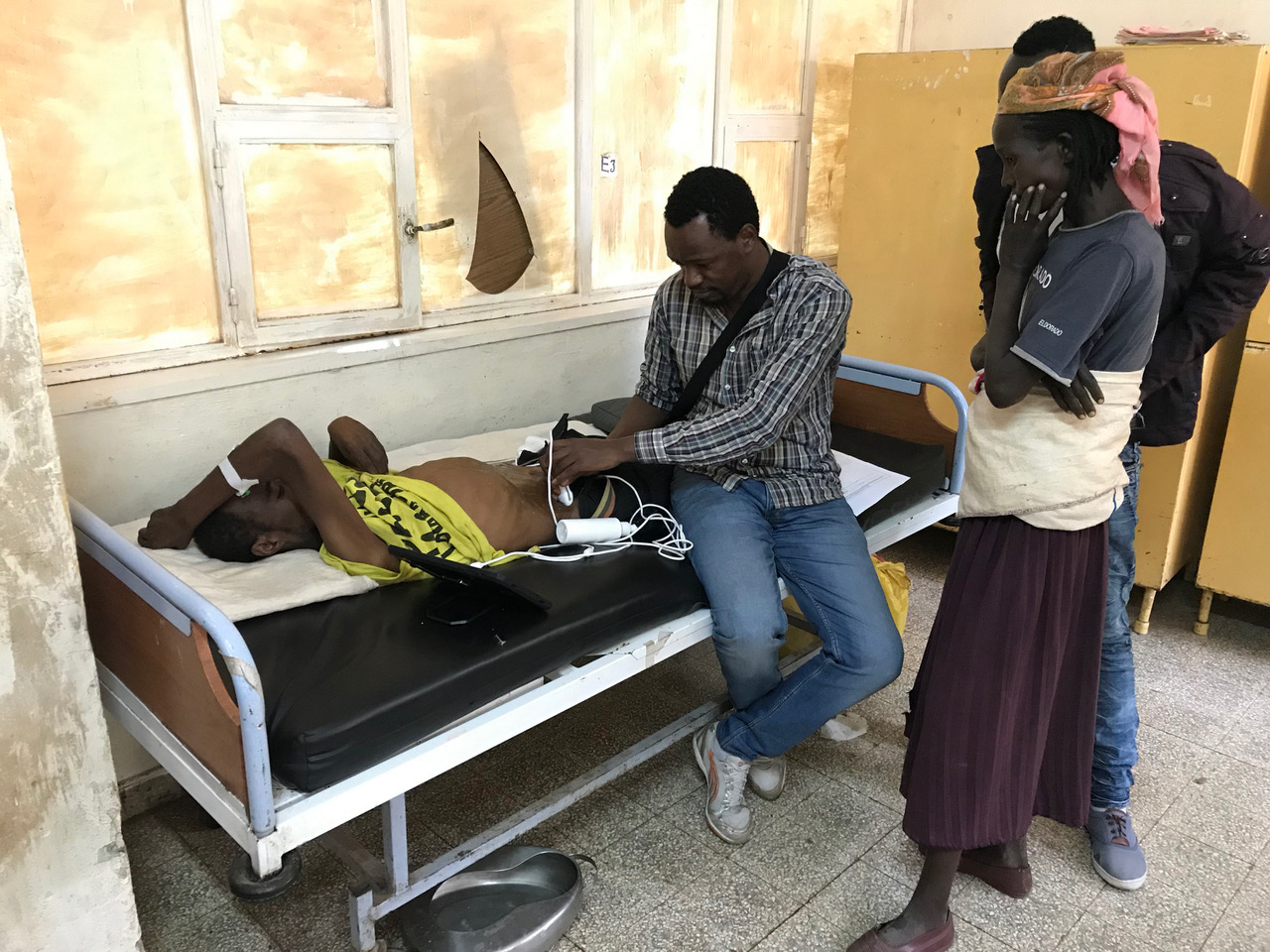 The facility to provide portable imaging is an obvious example of how the service has been enhanced.  How wonderful it is now to be able to offering ultrasound in ED and around the wards. With portable oxygen rarely available, a difficult transit and a very small ultrasound room, some patients simply did not get ultrasound imaging. Just imagine the improvement for the trauma and very sick patients in ED.( Remember there is no CT or MR). How good it is for the babies in NICU or children in pediatrics on permanent oxygen. It is outstanding for the monitoring of infection and post surgical outcomes in the surgical wards. And offering ultrasound guidance for chest and abdominal intervention has been a dramatic improvement of care. 
Beyond this though, the project has delivered a new range of examinations. Point of Care Cardiac is now available and the benefits are immediately obvious. Neither echocardiography nor a cardiology service is available here in any form.
With minimal prenatal obstetric surveillance, neonatal congenital cardiac disease is common. The capacity to distinguish a normally structured heart from a complex congenital anomaly has been extremely helpful for the clinicians managing these very sick newborns. Children and young adults present regularly with the severe sequelae of rheumatic heart disease and again, clarifying these sometimes complex presentations has been marvelous. And obviously POC adult echo has a range of applications.
Another new service has been the introduction on a neonatal cranial ultrasound service. This is in its early days but we are particularly looking at the complications of pre-term birth and meningitis.
Prior to the project, the  sonographers had not had training in lower limb colour Doppler examinations. The late presentation of disease here means we see some terrible presentations of DVT emanating from masses and collections in the abdomen. Peripheral Vascular Disease is probably less common than most regions but the high rates of cardiac disease means we are seeing arterial embolic disease surprisingly often. The team has appreciated getting training in this area which has been challenging for them up until this time. 
There are many others but perhaps one more. Chest Ultrasound is essential here. The medical ward is dominated by TB, pneumonia, empyema,  effusions and range of other chest presentations including neoplasia. Again no CT and no radiologist. This means that there are considerable demands on the CXR in partnership with Ultrasound to clarify so many of these presentations. The project has delivered training in performing a comprehensive chest ultrasound examination and as mentioned, to provide support for essential and often very difficult intervention.
All of this identifies the value of a longer sustained ultrasound project. Suffice to say, all of this is good news for the Sonographers, Clinicians, but mostly for the patients in Arba Minch and the environment. 
Blog Entry from Peter Coombs 24.07.2019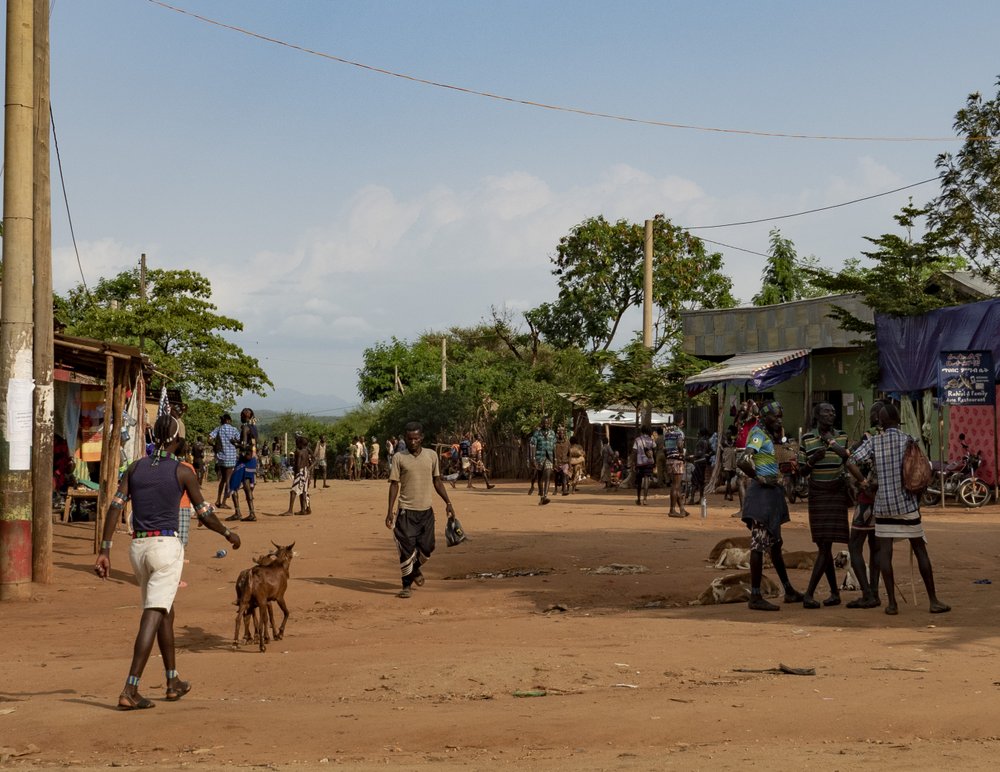 Another "Hi" from Arba Minch. It's the cooler season here with sporadic rain. There is some seasonal change to the fare available at the local markets. (eg mangoes have been replaced by apples). Regional violence is causing long outages to internet which is causing a few communication issues and is part of the reason I have been a little slow with these updates. Limited communication and limited time to travel has also meant that my Ethiopian experience is contained to this local region. Let me tell you a little about this and the people I meet.
Arba Minch is a productive agricultural area meaning that it does well by local standards. It is a region that is not prone to famine. It is a major university town which supports the economy.  This means ultrasound supports a diversity of people. The town population that resides here has ultrasound needs that we see across the world. Let me make some generalisations. The service is overrun with mid-range abdominal pain, obstetric care, evaluation of chronic liver disease, multi-nodular goitre, women's health (breast and gynaecology) etc.  This isn't so different to home.  Even some of the predisposing factors such as HBV, HCV and alcohol that I see at home are common here. Having said this, patients tend to present later, get sicker younger and the opportunity for follow-up and surveillance  is less.  
And there are major differences. There is no musculo-skeletal ultrasound here for low or mid range pain tendon and joint pain. The MSK we see tends to be serious conditions such as neoplasia or sepsis that has progressed to osteomyelitis. Without a CT, Ultrasound is used much more extensively for trauma (eg Road trauma) and complicated chest evaluation. The Philips Lumify has been really valuable in extending this service in my time here. The other obvious difference are the pathologies encountered commonly here include TB, Malaria, HIV, Leishmaniasis and Ascarias.
But Arba Minch Hospital is a "Regional Referral Service". Geographically it supports more than the local town. Its care extends into the poorer mountain populations and to the south, rural and tribal people. The patients who come from these areas, present even much later with sometimes, disturbing consequences.  Malnutrition is commonly encountered in children. Very late stage cancer presents in the adult population.  And some terrible infections. Recently, I travelled into the south and visited some of the tribes. This provided some valuable context and insight as to how and why this is happening.
But I commenced this entry with an acknowledgement that my Ethiopian experience is only regional. The May 2019 UNICEF Ethiopia Humanitarian Situation Report  
https://reliefweb.int/report/ethiopia/unicef-ethiopia-humanitarian-situation-report-5-reporting-period-may-2019 
provides disturbing insight to the challenges faced across the country. Please take the time to read this and reflect on the disparity between your own human experience and that of nations through this region. Maybe with WFUMB 2019 rapidly approaching, ponder how you can contribute to the outreach effort of your local society or WFUMB Outreach. You don't need to travel across the world to impact and care for these people.
Blog Entry from Peter Coombs 04.07.2019
Greetings from Arba Minch.
Apologies that I have been relatively quiet in recent times. It has been a difficult time in Ethiopia. An attempted coup has seriously limited communication in and out of the country. This has certainly hindered my capacity to update this blog regularly. But…
Exciting news in this update. Two new transducers have arrived in Arba Minch. Yes two !
Firstly a huge 'shout out' to the team at Quantum Healthcare in Australia. Quantum provide Samsung equipment to the Australian Ultrasound Community.
Quantum Healthcare have donated a micro-convex C4-9 transducer to the team at Arba Minch Hospital. This is outstanding for a wide range of work but particularly paediatrics. Paediatric renal examinations and assessment of bowel (eg appendix) will be vastly improved. This will also provide the opportunity for transfontanellar intracranial sonography in the neonates which hasn't been previously available.
Thanks Tiffany Chew (General Manager QUANTUM HEALTHCARE ANZ)  and all your team. This is greatly appreciated.
And then a second 'massive thank-you'. Samsung International have replaced the badly damaged curvi-linear low frequency transducer with a C2-5 transducer. The improvement to the overall imaging in all areas is phenomenal. No longer are we fighting large bands of artefact in our ultrasound images. The improvement we are seeing in the Obstetric and Chest Abdominal imaging is especially appreciated
Thanks Nukky Shin, SAMSUNG MEDISON : APAC Managing Director for facilitating this.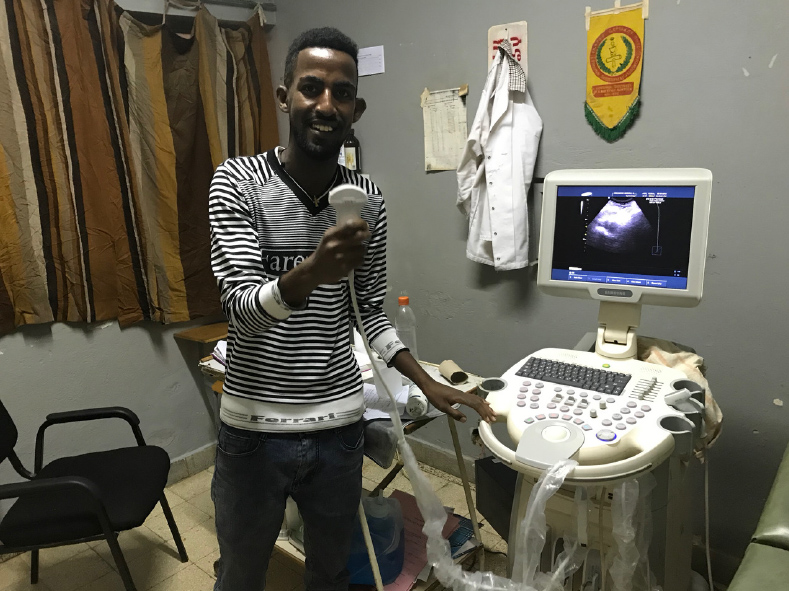 One of the transducers was hand delivered by my partner Sharon. This was exciting for the ultrasound team (pictured) who presented Sharon and I with traditional scarves. In the other photos you can see Katie, trailing the new C4-9 and Bini, celebrating the arrival of the C2-5
Suffice, to say, these two donations will be transforming for the department.
Thanks again Samsung, Quantum and the team at WFUMB. Look forward to communicating more about this.
Blog Entry from Peter Coombs 05.06.2019
Am keeping quite busy through the week. Its difficult to tell specific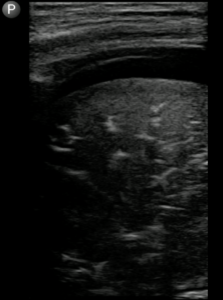 clinical stories because of the need to preserve patient anonymity. Here is a brief clinical reflection which is kept quite general for this reason.  
It is a unusual occurrence but one of the paediatricians gave me a call to perform a scan on a very sick child suffering from cardiogenic shock. The scene upon which I arrived was of a large number of clinicians working feverishly to do everything they could do. In the space between arriving and being needed, I had a few minutes to watch on in admiration. What struck me was the similarity between what was going on here and what goes on in hospitals across the globe. The settings are different, but the intent and skills are virtually the same.
And then it was my turn. A focussed cardiac scan to quickly consider major cardiac dysfunction and a survey of the abdomen and chest to look for a source of sepsis. There is no mobile x-ray in Arba so there hadn't been a chest x-ray at this point. The chest ultrasound showed collapse and consolidation bilaterally with effusions (see image). The poor child was battling serious pneumonia. In probably 10 minutes I was done.
Subsequently, I stayed around and watched and chatted to the team. It crossed my mind as I was standing there, what a phenomenal tool the ultrasound system is. It provided so many answers, at the bedside and in a short time. In this instance, the system was an ultrasound transducer that plugs into a tablet. Quite something ! This is energising to someone who has been in the profession for decades and will be the experience of many who take on volunteer roles.  
 But foremost in my mind was health of the young boy. This setting will present him major challenges.
Blog Entry from Peter Coombs 27.05.2019
Busy clinical week here with a number of demanding and complex cases.
The work at Arba certainly pushes the limits of your skills. Among the cases I scanned were a neonatal cranial for IVH, a neonatal heart looking for congenital heart disease, an adult heart severely affected by chronic pulmonary hypertension, a complex venous insufficiency study on a woman with a AV malformation on her leg and far more bowel and lung work than I am used to doing at Monash because of the availability of CT.
Might of mentioned in a previous update, that the youngest sonographer, Adamasu, that I taught last time I was here, is now teaching at Arba Minch University. He is teaching into the final year graduate program for radiographers. There is no sonography program over here. Radiographers learn ultrasound in their final year as an extension year. This semester he is running Friday/ Saturday lectures in Sodo and asked whether I would support these. A great opportunity!
The teaching was at the Sodo Christian Private Hospital.  The students were great fun. Seriously clever and very engaged. I had written a basic obstetric ultrasound lecture and we quickly moved to advanced congenital anomalies. Plenty of optimism for Ethiopian healthcare that the next crop of Sonographers are so informed. Have attached a few photos of Sodo and a photo of the group.
Blog Entry from Peter Coombs 20.05.2019
End of week three. Let me tell you a little about Arba Minch. It's a wonderful setting.
The town is built on the edge of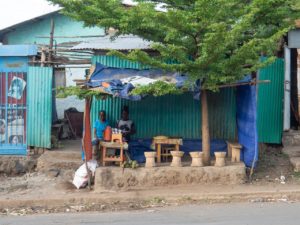 escarpment which separates the forest of Nech-Sar national park and Lakes Abaya and Chamo.  The streets are tree-lined. In the morning and evening they are vibrant with the activity of the people. They quieten a little in the heat of the date and constantly interrupted by the animal population which appears to have the rule of the town.

Arba Minch is a town of around 200,000 so isn't large. It was only founded in the 60's so in many ways it is remarkable in what has been achieved.  At the high end of town is a small business area with a diversity of business and hotels. There are a couple of resorts that have splendid views over Nech-Sar. The hospital is on the middle to lower part of the escarpment surrounded by and assortment or traders and Arba Minch
University buildings (pictured is my favourite coffee house). It always seems a hub of activity.  The lower part of town has two parts, split the Kulfo River. These lower reaches beyond the residential area are rich in fruit plantations (banana, mango guava and pineapple).  Arba Minch is a University town with over 1000 medical students studying at any time.

But… Arba Minch faces many challenges which are made worse by being rural.  Health is very high on the list and I have been touched deeply by this, every day I have been here. Some basic Ethiopian stats: Ethiopia is 3rd in Africa and 8th in the world for countries burdened by TB. Malaria is rife with over 1 million cases reported in 2007. The probability of dying under 5yo is between 58-112:1000 (Australia <4:1000)
And at this point I pause. The reality is that I have been less than comfortable writing this blog. The photo element is particularly difficult. While I don't pretend to speak for the people of Arba, I am very sure they would only want to be portrayed as citizens of this planet trying to carve out their existence like anyone of us. My foremost interest is to respect this in word and pictures.
So why blog? WFUMB needs to be promoted for their wonderful work in supporting this initiative. Well done to Christian Pallson Nolsøe, Lynne Rudd and the wider WFUMB leadership.
Am also perpetually grateful to Philips for providing the Lumify portable ultrasound system which has been a godsend.
But the main reason I agreed to do this was that it would provide a platform where I could identify the needs and seek solutions. And this is the time.
Arba Minch needs ultrasound transducers so badly. Everyday we scan are scanning a very large number of patients. The images are degraded so badly. It's a Samsung Sonoace X6 and we will take any transducers you have access to. I have asked before but now I am pleading.
Blog Entry from Peter Coombs 14.05.2019
It's only the end of week two. It is hard to believe it is only two weeks. Most of the second week was spent working with the ultrasound team performing examinations and simultaneously training. Of note, early in the week I attended the O&G and surgical weekly case review meetings to promote the project.
In this update, I thought I'd describe the diversity of examinations that are encountered in Arba Minch. As mentioned previously, the lack of availability of CT or MR means that ultrasound is required to investigate, trauma and sepsis, both of which are extremely common in this locality. Perhaps to illustrate this diversity, here is an example of a morning spent in Arba Minch Hospital.
Last Tuesday morning was a particularly varied and challenging case mix. On arrival we found the usual 10-15 patients waiting at the door. At the front of the queue there was a woman lying on a trolley screaming in pain. As it turned out, she was 34 weeks pregnant and had a large mass above the gestation.  The diagnosis of a large incarcerated hernia was straightforward. Over the next 10 minutes this was gently reduced this with ultrasound guidance.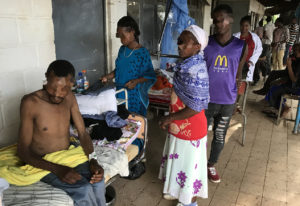 Over the next hour, we made three new diagnoses of malignancy (probable, cervical, gallbladder and metastases in the liver). Interspersed were  patients with relatively low level flank or epigastric pain or trauma. Mengistu and I then headed to the nursery to scan the abdomen and heart of a neonate with distension. (Note that I am not cardiac trained but extensive fetal echocardiography has provided basic skills in this area)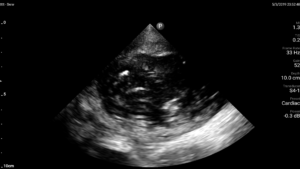 Following this we went to the pediatric ward and saw a young child with severe malnutrition (again distension and ascites). Amidst the ascites there was a very large ileal-ileal intussception which we decided we would review the following day to ensure that it had resolved. The stop was the O&G ward where we saw a woman with a large abdominal mass. We still need follow-up on this mass however it looked very much like a highly progressed partial molar pregnancy. And then finally to the medical ward to assess this man's large empyema. The Philips Lumify has been great in facilitating this mobility.
Challenging, demanding but surrounded by caring professionals all going about their role to the level resources allow.
It's important to note that it isn't always like this. Like all clinics, there can be a run of normal ambulatory patients or routine obstetric surveillance. Nonetheless, the reliance on ultrasound and the socio-economic circumstance certainly create a setting for a diverse and interesting case mix.
Blog Entry from Peter Coombs 05.05.2019
Just checking in after my first week at Arba MinchIt has been quite a transition.   There's so much to tell about my settling in and the early days Arba Minch Hospital.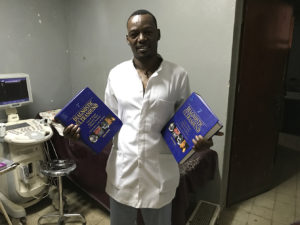 At the onset, I need to acknowledge the College Dean Dr Tamiru who has been wonderful in the lead up to the project and now in supporting me in these early days.
 In brief, I arrived early afternoon on Monday and spent the PM sorting accommodation and basic needs. Tuesday was  full day of scanning and I was immediately reminded why I felt it was important more support was provided.  Wednesday was a Festival Day so a day off!  Not really. Mengistu rang me to come to provide some on-call support  with some very difficult cases. These included a young woman with a massive neck abscess who was writhing in pain and a very sick young boy who had a sub-acute haemoperitoneum following a road accident 2 weeks prior. Thursday scanning in the main department. Friday I attended the weekly Internal Medicine meeting. The project was outlined by Dr Tamiru to the team encouraging junior and senior staff to make the most of any learning opportunities. After this meeting Mengistu and I headed to the special care nursery with the Philip Lumify.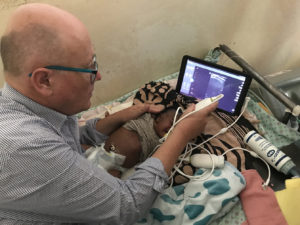 However I am going to put this aside further detail for the moment and simply tell you about my re-acquaintance with the local sonography team. As previously mentioned, WFUMB ran a 4 day 'Course in Abdominal Ultrasound' in Arba Minch in which I participated as an educator/ trainer. Subsequent to the main program, I stayed on to provide additional ultrasound teaching. Most of this time was spent in the Imaging Department providing support for Katie (30 years experience), Mengistu, (newly graduated doctor) & Adimasu* (a young radiographer relatively new to the world of ultrasound).  
*Was very pleased to hear that Adimasu has subsequently taken an academic role in teaching radiography and basic ultrasound at Arba Minch University.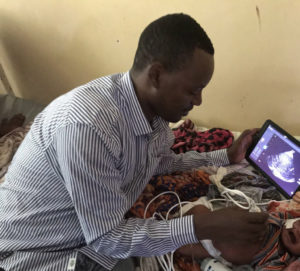 Our reunion was a joy. Huge grins. There were exclamations of delight that I had returned. Katie and Meningstu identified that they had been working hard on techniques and systems that we had established in the previous training. Their progress has been substantive. They were thrilled to get textbooks and the Philips Lumify which was put immediately into service. Was also introduced to Biniyin, a new member of the team.
The Arba Minch ultrasound service faces huge challenges. Patient numbers at times are overwhelming. Staff numbers and experience is low. The cases they see each day have significant complexity complicated by patients having an array of comorbidities uncommon in Western Health Care. Basic infection control seems impossible. And finally, this is a setting without CT or MR.  Ultrasound at times is the first and only imaging modality available to seek out a diagnosis. The case mix is quite something. 

Beyond these broad challenges, there is an immediate problem. The current installed ultrasound system  is a Sonoace X6.  This has been an excellent workhorse. It has two transducers. There is a linear 5-12 which has small amounts of artefact. However it is the low frequency curvi-linear that is desperately in need of replacement. It has a small cavity in the surface membrane and multiple areas of dropout. The artefact generated is highly problematic. 
Am wondering whether there is anyone in the WFUMB community who has transducers for the old Sonoace they would be happy to donate to a wonderful cause?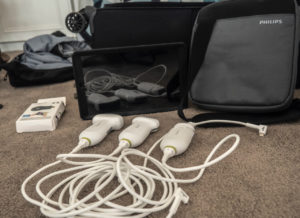 Blog Entry from Peter Coombs 27.04.2019

Last night in Australia before I embark. Had a lovely send off lunch with my colleagues at Monash Health Ultrasound yesterday .
At this time, I am just thrilled to have this opportunity to work with the team in Arba Minch. Packing for 6 months away does feel a little daunting.  Nonetheless, the first item in the suitcase is this Lumify Ultrasound System very kindly donated by Philips Ultrasound and facilitated by WFUMB. Thanks Philips. How amazing. Three transducers, a notebook (with a stand) all fits in that very small satchel. It will be a huge asset in my time away.  #arbaultrasound #WFUMB
Blog Entry from Peter Coombs 24.04.2019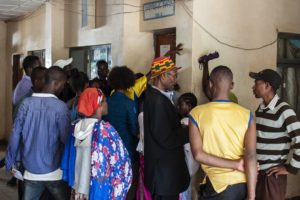 In November 2018, WFUMB ran a 4 day 'Course in Abdominal Ultrasound' in Arba Minch, Ethiopia. An intensive training schedule for the local ultrasound service was provided as part of this program.  This was an exciting project where the benefits to the local team were considerable. Arba Minch Hospital has no CT, MR or a radiologist. As the team left, it was easy to see the importance of ultrasound and imagine the potential benefits to the sonographers and the hospital  of a much longer training program. From this beginning, project "arbaultrasound" was developed. 
Project arbaultrasound is WFUMB's first medium length ultrasound training program in a developing country. The plan is for Peter Coombs, (a highly experienced sonographer from Australia), to support the Arba Minch Hospital & Arba Minch University as a clinical leader, trainer and educator for 22 weeks between May and October 2019.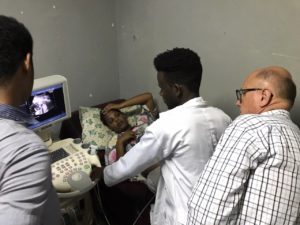 The main focus of the program is to provide training for the sonographers. There is broader ambition around supporting and expanding the use of ultrasound across the Arba Minch medical community. The project has support from the Australasian Society of Ultrasound in Medicine (ASUM) and Philips who have provided a Lumify to support the clinical activity and teaching of the program.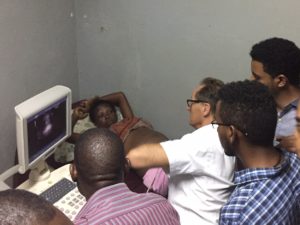 Over the coming months Peter will provide updates on the progress of the program and the give us some insight into the community of Arba Minch. You are welcome to subscribe to this blog if you are interested in the program or wish to support WFUMB's activities in this area. It may also be of interest if you are ultrasound professional with ambition to volunteer for similar projects. Peter can also be followed on Twitter using #ultrasoundarba #WFUMB
HASSEN A. GHARBI,*,1 NICOLAS GRENIER,y,2 and SEUNG HYUP KIMz,3* University of Tunis, Tunisia; y Hospital Pellegrin, Centre Hospitalier Universitaire de Bordeaux, France; and z Seoul National University Hospital, Seoul, Korea…