Publications below are not endorsed by WFUMB but may be of interest

Pleural Disease
The science underpinning our understanding of pleural disease, and the evidence base for treatment,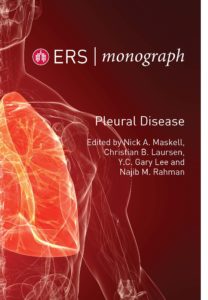 is rapidly expanding. Navigating this ever-changing field is the major purpose of the latest ERS Monograph on Pleural Disease. Guest Editors, Nick A. Maskell, Christian B. Laursen, Y.C. Gary Lee and Najib M. Rahman, are world-renowned in the field, and have brought together an impressive list of distinguished chapter authors to discuss key aspects relevant to clinicians, radiologists, pleural specialists and researchers.
The Pleural Disease Monograph covers: background and investigation, including epidemiology, physiology and its relationship to symptoms and management; basic science and animal models of pleural disease; the role of radiology and ultrasound, which is now considered an essential tool for pleural disease management; and major pleural entities, such pleural infection, mesothelioma, pneumothorax and TB. Liaison between specialities and the delivery of a pleural service has also been addressed through chapters on surgery for pleural disease and the key components of an active pleural service.
This Monograph serves as an up-to-date resource on pleural disease. The Guest Editors hope that it will help improve delivery of care, expand awareness of the development, biology and progression of pleural conditions, and inspire further studies and research programmes.
For online access to the book, visit books.ersjournals.com (access is free for European Respiratory Society members)