March 11-14. 2020
In partnership with ISUOG, WFUMB will deliver the ISUOG Basic O&G Course at the Fiji CoE in Suva, Fiji.
The course is limited to 12-16 participants who will be drawn from multiple hospitals & clinics from around the Pacific nations. The aim of the course is to extend the obstetric ultrasound service in the region. Lead trainers have been sourced from the ASUM federation.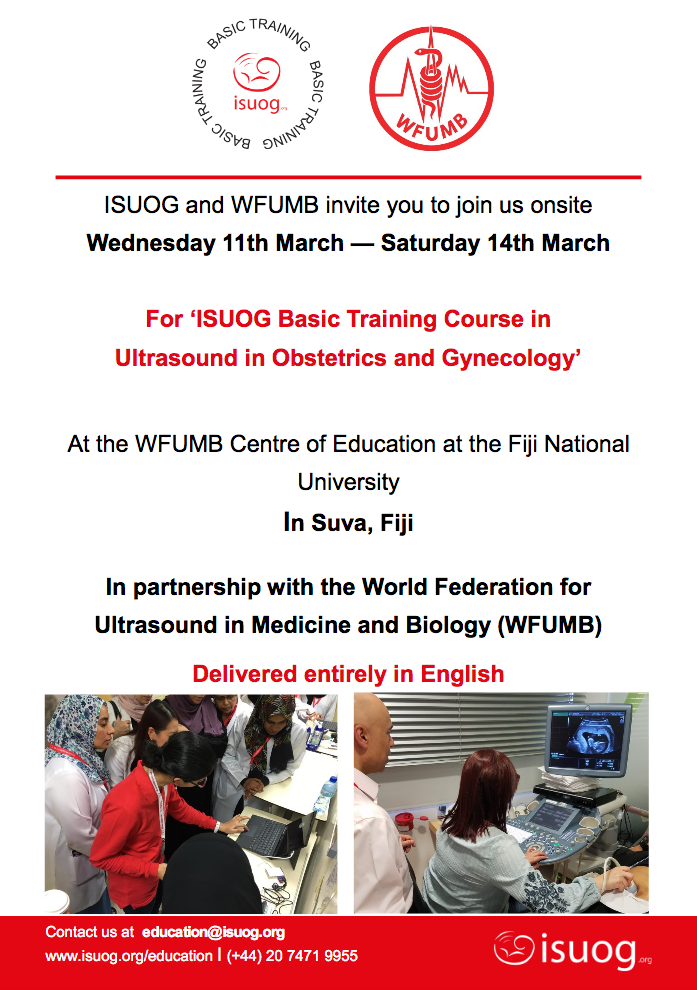 View the event flyer here> 
During this four day course, participants will study the obstetric ultrasound scan with a 2-day theoretical program and a 2-day practical program.
The theoretical lectures will cover the physical principles of ultrasound, assessing the normal pregnancy in 4-10 week and 10-14 week singleton and twin pregnancies, the 20 + 2 planes approach to the normal mid trimester scan – and more. ISUOG experts will teach you how to distinguish between normal and abnormal fetal anatomy, and you will learn how to decide whether your ultrasound scan is 'normal or not'. Following the theoretical lectures, there will be 2 days of practical sessions to explore the topics you have studied with scan stations.
View the provisional programs here:
Please note this course will be delivered entirely in English
To register for this course, or to find out more information, please email reetika.pillay@fnu.ac.fj and nanise.kutani@fnu.ac.fj.
Please note this course is for trainees in the Pacific region.
May 21-22. 2020 – THIS COURSE HAS BEEN POSTPONED

Ultrasound supervision course.
Presentations will be given on the ASUM Ultrasound supervision course that aims to equip sonologists & sonographers with the means of supervising ultrasound students.