Due to increasing demands for education and training in ultrasonography, World Federation for Ultrasound in Medicine and Biology [WFUMB] has decided to establish 'WFUMB Center of Excellence' at different continents. Accordingly First "WFUMB Center of Excellence" was established in Dhaka in 2004. On 24 February 2004 an agreement was signed between the Bangladesh Society of Ultrasonography [BSU] and the WFUMB for this purpose. Prof. Hiroki Watanabe-WFUMB President and Prof. Kanu Bala-BSU President signed the agreement on behalf of WFUMB and BSU.
The 19th WFUMB COE Workshop was held on 3 March 2017, Friday at the Auditorium of the National Institute of Nuclear Medicine and Allied Science, Bangabandhu Sheikh Mujib Medical University Campus, Dhaka, Bangladesh. The topic of the workshop was "Controversies in Pregnancy Ultrasound". 152 participants attended the workshop. Prof. Byung Ihn Choi-Korea is the Chairperson of the Advisory Board of the WFUMB COEs and Prof. Kanu Bala-Bangladesh is the Director of the WFUMB Center of Education Bangladesh. Bangladesh Society of Ultrasonography is the host organization.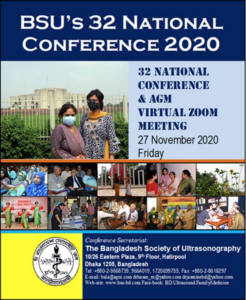 BANGLADESH SOCIETY OF ULTRASONOGRAPHY
32ND NATIONAL CONFERENCE ON 27 NOVEMBER 2020
The 32nd National Conference and AGM of the BSU will be held on 27 November 2020, Friday as Virtual Zoom Meetings. The Program is attached along with this invitation. All the BSU Members and Other Interested Non-member Physicians are welcome to attend Conference after registration.
Scientific Session will address critical issue and current controversies in the field of Ultrasound. Prof. Jeong Yeon Cho-South Korea, Secretary of the Asian Federation of Societies for Ultrasound in Medicine and Biology [AFSUMB] will attend the Conference as Resource Personnel.
Registration Fee is only 500.00 Taka, which will provide you Conference souvenir
THE ZOOM ID AND PASSWORD WILL BE SEND TO THE REGISTERED PARTICIPANTS IN TIME BY E-MAIL OR BY MOBILE.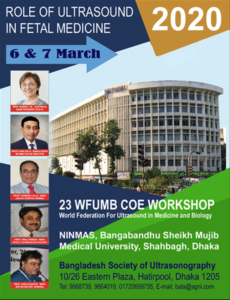 23RD WFUMB CENTER OF EDUCATION WORKSHOP:
World Federation for Ultrasound in Medicine and Biology [WFUMB] has established its First Center of Education [COE] in Dhaka in 2004. The 23rd WFUMB COE Workshop will be held at the NINMAS Auditorium, Bangabandhu Sheikh Mujib Medical University, Shahbagh, Dhaka on 6 & 7 March 2020, Friday & Saturday.
The title of the workshop is "ROLE OF ULTRASOUND IN FETAL MEDICINE". Resource personnel from abroad and home will cover some impotant areas of fetal medicine. A number of 'Patient
and Probe' Sessions will be operated by the Foregn Faculty and a Competent Local Faculty.
Prof. Susan Campbell Westerway-Australia WFUMB EB Member, Prof. Kanu BALA-Bangladesh WFUMB COE Director, Prof. Chander Lulla-India IFUMB Dean, Prof. Viral Parekh-India Kolkata Apollo Gleneagles, Prof. Vivek Kashyap-India Society of Fetal Medicine Secretary are going to join the workshop as Resource Personnel.
For 2 days workshops registration fee is 4,000.00 taka for BSU Members and 4,500.00 taka for non-members. Bank Account: "WFUMB COE, Uttara Bank Ltd, Eastern Plaza Branch, AC no 011-3125". BKash Account 01709215808. For registration send 1] Your name, 2] Address, 3] Telephone/E-mail. If accommodation is needed, you may contact the office. If you are interested inbox your name and telephone number, you will get up to date information. Seats are limited, please block the dates and contact the BSU Office for registration.