Dear WFUMB Family Members
As we come to the end of 2020 we reflect on what has been an extraordinary year. The COVID19 pandemic has had more of an impact on our ultrasound family than we could have imagined.  The WFUMB Federations and their member societies have adapted by holding virtual conferences and webinars to replace the face to face meetings. 
This edition of ECHOES includes our Federation reports that review how they have carried on delivering education despite COVID19.  To assist with furthering the WFUMB aim of providing ultrasound education in areas of need, WFUMB is distributing handheld ultrasound units to our Centres of Education, with FLAUS COEs being the first recipients. 
The ultrasound luminary interview for December is with Jack Jellins who is well respected in the Australian ultrasound community. Finally, the WFUMB family mourns the loss of past president Professor Harvey Nisenbaum and to pay tribute, we have assembled a pictorial collage of this great man enjoying his role as leader of our group.  
Stay safe and may 2021 bring a fresh start to our world.
Sue Westerway
Communications Chair


COE handheld devices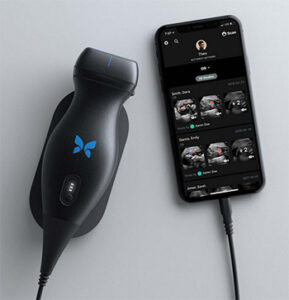 WFUMB has recently decided to donate an ultrasound handheld device to participating Centers of Education (COEs). There are currently 19 COEs distributed around the world (please visit www.wfumb.org to see more). As the main purpose of WFUMB is to bring sustainable ultrasound to all regions of the world and only 1/3 of the World's population has access to medical imaging, we hope these handheld devices will offer the possibility of medical imaging on a larger scale in the future.
Handheld devices have been described in many papers, and position papers have been published by many societies including the European Federation for Ultrasound in Medicine and Biology (ref.  Nielsen MB et al. Ultraschall Med. 2019;40). In most publications results are encouraging especially for point of care ultrasound.
Caroline Ewertsen
---

WFUMB Butterfly COE Agreement
Leandro Fernandez, MD
Thanks to the agreement between WFUMB and the Butterfly company, our organization received a number of Butterfly iQ® devices for distribution in WFUMB Centers of Education, COE, around the World. Each COE will have a system of most recent technology, which will allow to expand its teaching activities more and more. Physicians who come to these Centers will be able to use the devices and see from the front row, their operation and various applications, especially in the field of POCUS.
By having these pocket handheld ultrasound machines, with a great capacity for generating and processing images, numerous possibilities are opened for the care of patients, either in the ultrasound room, the emergency area or where patient care is required.
The COEs are able to generate teaching clinical images, contribute with clinical cases and interact even more between their students and our Federation. Latin America already started these activities.
The WFUMB through its Education Committee and the Centre of Education Task Force Group, support training, development and dissemination of knowledge about diagnostic ultrasound, ultimately achieving a better quality of medical care for patients from all latitudes.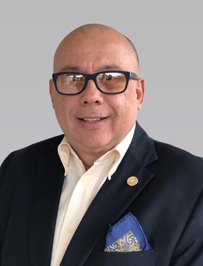 Leandro Fernandez, MD
Centre of Education Director Latin & South America
COE Task Force Group
3 mm. Distal posterior tibial artery
Latest WFUMB Webinar

The WFUMB team have been busy preparing with a Webinar and associated presentations on WFUMB 'Ultrasound, the Best' Cases which took place on Tuesday, September 15, 2020 2:30 PM – 4:30 PM CEST

The webinar consisted of Introduction, 3 lectures & summary, with Q&A's and feedback.

Presentations were well received:
Cases in the Urinary Tract –
Seung Kim
Cases in the Liver –
Odd Helge Gilja
Cases in the GI Tract –
Christoph F Dietrich
All presentations including the Introduction, Conclusion and Q & A's session can be found from the link below.
WFUMB invites you to participate in this campaign by submitting your cases through the WFUMB website. You can find submitting guidelines and slide templates at the WFUMB website.
---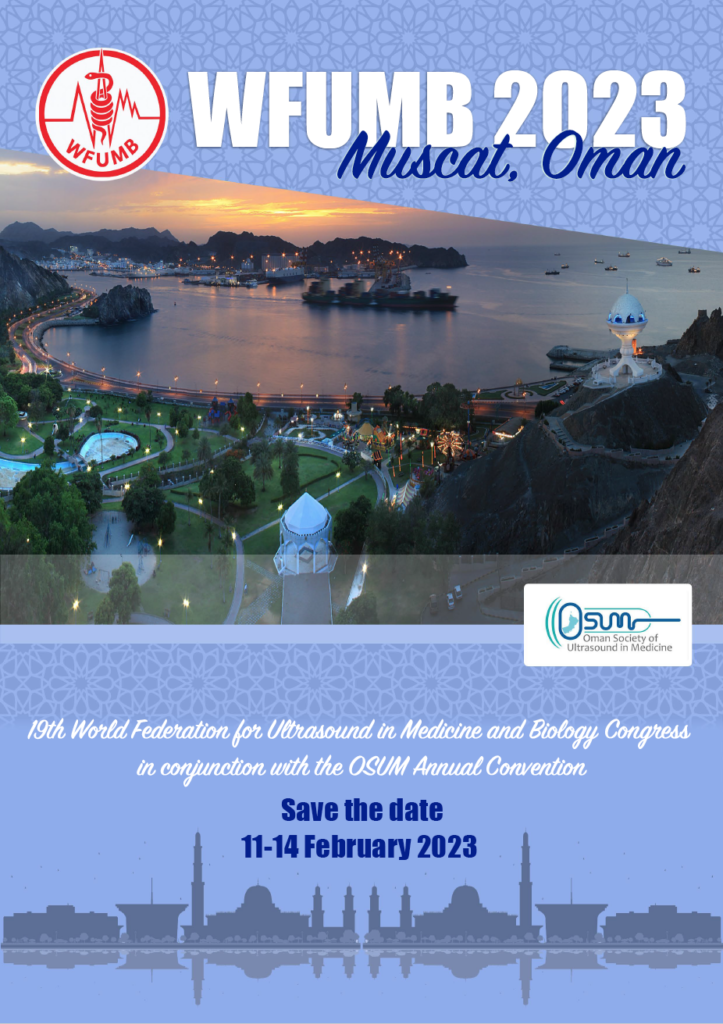 WFUMB 2023, Muscat, Oman
The 17th World Federation for Ultrasound in Medicine and Biology Congress in Conjunction with the OSUM Annual Convention
11-14 February 2023
Visit the dedicated WFUMB2023 web site for more information about this exciting event ….



Opening of the AIUM WFUMB COE
In late October, WFUMB had the great pleasure to announce the opening of the latest Centre of Education. The American Institute of Ultrasound in Medicine (AIUM) in Laurel, Maryland offers a center ready to conduct didactic and hands-on training in a state-of-the art environment.
The American Institute of Ultrasound in Medicine (AIUM) was officially established as a multidisciplinary organization in 1952 when the use of ultrasound for medical diagnosis was in its infancy. Medical pioneers recognized the potential of this fast-growing imaging modality and agreed on the need to advance the art and science of ultrasound in medicine and research.
Over the past decades, the AIUM has achieved these goals through educational, scientific, and professional activities. The success, respect, and credibility that the AIUM has attained are based on the involvement of all ultrasound professionals, including physicians, sonographers, scientists, engineers, other healthcare providers, and manufacturers of ultrasound equipment. This unique combination of specialists ensures that recommended policies, practice standards, safety procedures, and performance guidelines receive the widest evaluation possible. The AIUM's emphasis is on making available to members the most up-to-date and accurate information and skill training so they can make the best use of this imaging modality while ensuring the safety of the patients who depend on them.
The AIUM has established committees to address the needs of the organization and the educational needs of the profession. Some of these committees are Annual Convention, Bioeffects, Clinical Standards, Constitution, Continuing Medical Education, Educational Resource, Finance, Membership, Patient Resource, Regional Courses, and Technical Standards. Subcommittees and ad hoc committees are created as needed.
The AIUM has been a member of WFUMB since WFUMB's inception in the late 1960s.
To view the COE AIUM Team, Location and Facitlies – view the AIUM COE page here >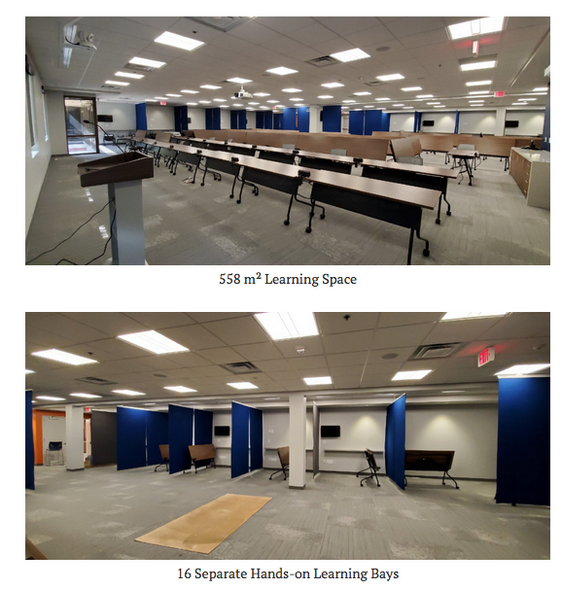 WFUMB 2021, 26-29 May 2021 in Timișoara, Romania

The 18th World Federation for Ultrasound in Medicine and Biology Congress in Conjunction with EUROSON 2021 & SRUMB 2021
Images of the Timisoara Convention Center – the location for WFUMB 2021



WFUMB COE Course Book Project
D. Nuernberg, R. Sirli 

WFUMB COE Course Book (WCB)
Project of WFUMB Education Committee 2020/21
Editorial board:
Editors: D. Nuernberg (corresp. Ed.), Ch. Chammas, OH. Gilja, I. Sporea
Co-Editors: S. H. Kim, Y. H. Chou, G. Condous, S. Vinayak, J. S. Abramowicz, C. Nolsøe, C. F. Dietrich, S. Westerway, R. Sirli (ass. Co-Ed.)
In the beginning of 2020, the editors invited experts of WFUMB to contribute to this WFUMB Education Project!
More than 15 years ago, members of WFUMB with the help of WHO published a Manual for Diagnostic Ultrasound (Vol. 1 & 2 edited by H. Lutz, E. Buscarini, P. Mirk). As time went by, new US methods became available, and updated electronic material was needed for daily work of WFUMB Centres of Education (COE), including video material and up-to-date special US applications, with the possibility of short time review. Furthermore, we would like to involve more WFUMB experts in the project of an updated version of the Course Book.
The main aim of our endeavour is to provide COEs with up-to-date education material for their basic and advanced courses, especially in abdominal US, but also for other applications.
60 authors all over the world are involved in this project.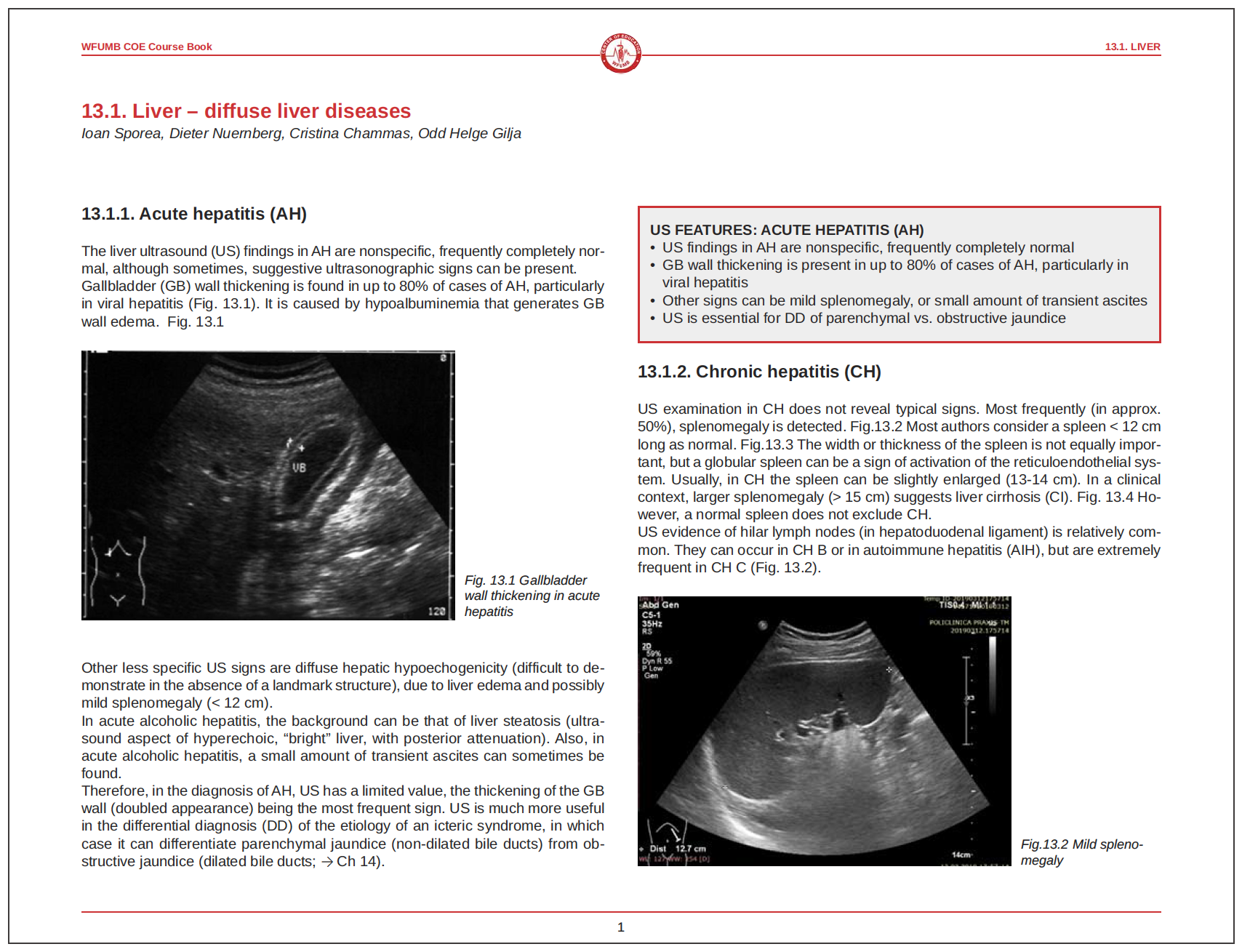 In the content you will find 34 chapters in 5 parts:
A: Basics of US examination
B: Abdominal Course Part I – Examination and Sono-Anatomy
C: Abdominal Course Part II – Sono-Pathology, tips & tricks
D: Basics of other specialties
E: Other additional specific topics
The book will be in electronic format (PDF with integrated images and videos) and it will be illustrated by > 1000 images and > 500 videos.
We announce it for May 2021 !
Corresponding addresses:
Dieter Nuernberg d.nuernberg@mhb-fontane.de; Roxana Sirli roxanasirli@gmail.com



Zambia Ultrasound Society Course
Stefan Kafwimbi

Introduction
WFUMB Centre of Education in Zambia was approved for establishment on 2nd July, 2020. The COE is currently domiciled at The University Teaching Hospital (UTH) in Lusaka, Zambia. Since the Society of Ultrasound is still undergoing the due process of registration in compliance with the Registration of Societies Act of the Laws of Zambia, the COE is currently running under the auspices of the Radiological Society of Zambia.
The COE undertook to run its inaugural course from 23rd – 25th September, 2020. However, due to logistical constraints and the need by the Ministry of Health to comply with stringent Covid-19 regulations for public gatherings of more than fifty (50) people, the training course was rescheduled to 7th-9th October, 2020.
The COE Course
As earlier indicated, the course could not take place on the initially planned dates because the intended venue was not cleared by the health authorities.
This resulted in the change of venue. Further, the authorities required that all the participants should have a Negative Covid- 19 test results within 3 days before the commencement of the course. This was also followed up by another rapid diagnostic test on each day of the training. The health authorizes were of the view that because of the nature of the training that required active participation and close proximity of all attendees for hands on sessions, it was necessary to ensure adequate screening.
The Course Participants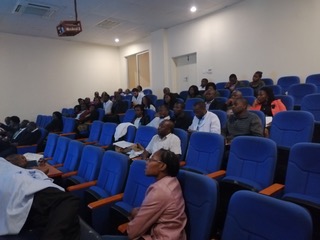 The composition of the sixty (60) course participants was multi-disciplinary and included the following:
A. Physicians
B. Radiologists and Residents
C. Radiographers
D. Surgeons
E. Sonographers
F. Midwives
Conclusion
At the end of the three (3) day training, each participant received a certificate of attendance. The COE Director encouraged all participants to join the soon to be established Zambia Society of Ultrasound.


FLAUS Report
Jorge Rabat

FLAUS is constituted by 14 Ultrasound Societies that represent their respective countries: Argentina (SAUMB), Bolivia (ABUM), Brazil (CBR), Chile (SOCHUMB), Colombia (ASOCOUM), Costa Rica (ASCUME), Ecuador (SEUM), Guatemala (ASOGU), Mexico (FMACU), Paraguay (SPE), Peru (SPUMB), Dominican Republic (SDSONO), Salvador (ASOGOES) and Venezuela (AVUM). 
COVID 19 has brought enormous problems to all of humanity and has limited and prevented us from meeting and embracing each other, but it has allowed ingenuity to flourish by developing countless virtual webinars for all scientific specialties. Medical specialties provided distance meetings with international professors from all latitudes, which would be very difficult to carry out in other circumstances. In this second half of the year this activity has increased significantly.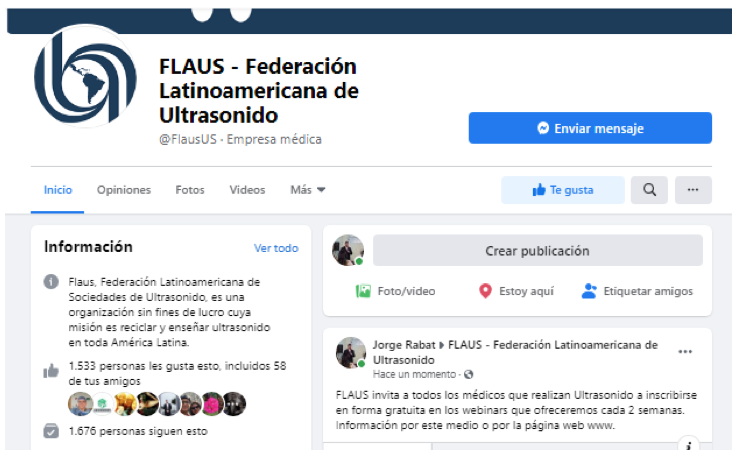 FLAUS
FLAUS has developed a modified and modernized website, which is displayed in Spanish, English and Portuguese and has increased its presence on social networks, especially on YouTube and Facebook. A YouTube Channel was created to disseminate our content.
We kept the webinars every two weeks and changed their platform for a better and easier dissemination, with international professors from our affiliated Societies.
On May 27, Dr Peter Francolin spoke about Problems and difficulties in the venous study of the lower limbs. On June 10, Dr. Daniel Cafici spoke about the Use of Doppler in the diagnosis and monitoring of intrauterine growth restriction. On June 24, Dr. Pablo Morikawa spoke about the clinical-echo-sonographic criteria in the diagnosis of autoimmune thyroiditis and subacute thyroiditis. On July 8, Dr. Antonio Carlos Matteoni and Dr. Edda Chaves spoke about Ultrasound criteria of benign nodular lesions of the breast: Mode B and Shear-wave Elastography.

On September 9, Dr Roberto Gori spoke about the Ultrasonographic Study of Deep Endometriosis. IDEA protocol. On September 23, Dr. Lena Pari spoke on How to evaluate the Femoral Rectos Muscle. On October 14, Dr Roberto Moncayo spoke about Ultrasound Markers of Chromosomopathies 11-14 weeks): a practical update.
The next scheduled events are for October 28, Dr. Miguel Angel Jimenez Taboada will speak about Ultrasound Assessment of Bladder Pathology. On November 11, Dr Antonio Terrones will speak about Twin Pregnancy. Much more than two fetuses together. And on November 25, Dr. María Cristina Chammas will speak on How to use the ACR TIRADS in practice.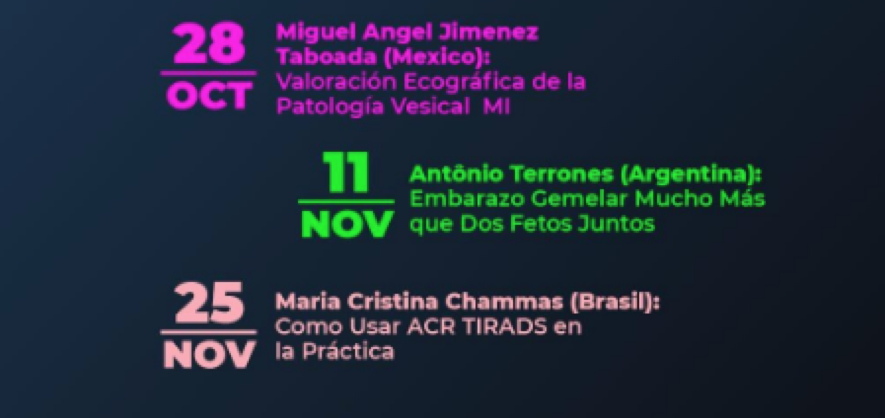 Activities of member Societies
Our Societies have also carried out extensive activity, which we can summarize as follows:
The Colombian Association of Ultrasound (ASOCOUM) has presented several webinars: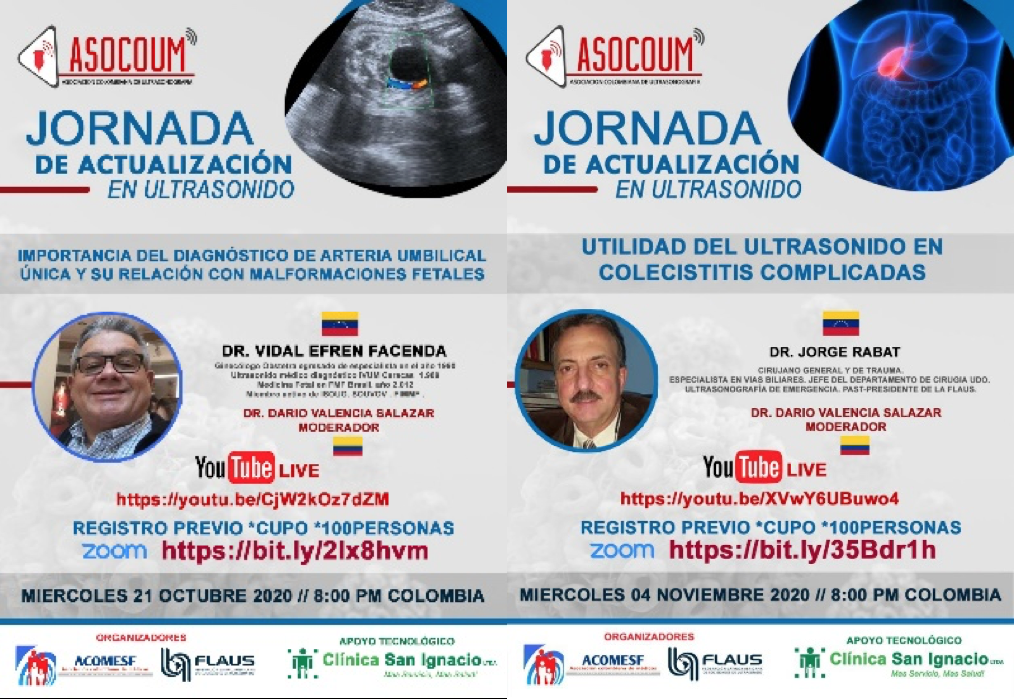 The Venezuelan Society of Ultrasound in Medicine (AVUM) has carried out various scientific activities in this period:
International Decalogue of MMF. Prediction of fetal death in diabetic patients. SEUM-SIADTP-AVUM-SOGV. Dr. Daniel Márquez. 06/13/2020.
Doppler and breast elastography in the framework of the breast imaging update course of the Venezuelan Society of Mastology. Dra. Patricia González. July 18, 2020.
SOGV-AVUM Webinar. Obstetric Ultrasound.
First Trimester Ultrasound in the Age of Fetal DNA. Dr. Daniel Márquez.
Early fetal anatomical screening. What can we diagnose? Dr. Juan A. Pérez Wulff.
Current role of the US Doppler in. the study from 11 to 14 weeks. It's essential? Dr. Carlos Lugo. July 30, 2020.
Complementary markers in first trimester ultrasound screening for aneuploidies. SOGV-AVUM. Dr. Daniel Márquez. 07/30/2020.
Interdisciplinary management of preeclampsia far from term. SOGV. Dr. Daniel Márquez. 08/12/2020.
ECO FAST in the polytraumatized pregnant woman SOGV-AVUM. Dr. Daniel Márquez. 08/22/2020.
Epigenetic impact of fetal growth disorders. SOGV-AVUM. Dr. Daniel Márquez. 08/25/2020.
AVUM celebrates this year its 34th Annual Congress without interruption. This year in its virtual version, it has created a virtual technological platform on the web that allows live interaction and, through two main rooms, to screen the Conferences live and on demand for both the Medicine and Gynecology-Obstetrics areas. There are more than 70 national and international speakers. To this Virtual Eco Center are added 4 additional rooms that will share extracurricular virtual material, poster presentation, virtual library, networking or social interaction and daily news.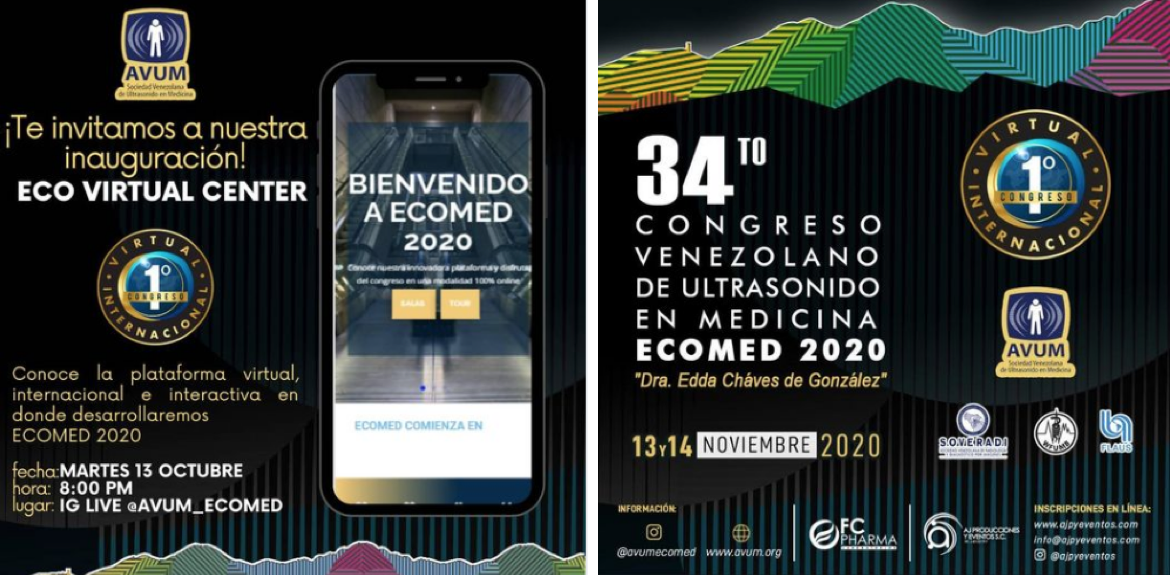 The Argentine Society of Ultrasound in Medicine and Biology (SAUMB) held the following webinars:
Evaluation of fetal growth by ultrasonography. State of the art. Dr. Daniel Cafici
Systematics for the study of superficial venous insufficiency. Dr. Edgardo Rubio
Use of ultrasound in the evaluation of respiratory infection by COVID-19. Dr. Diego Barca
Bleeding in menopause. Ultrasonographic findings. Dr. Roberto Gori
Arterial spectra in Doppler evaluation. How to interpret them? Dr. Julieta Crosta
Ultrasound evaluation of the late first trimester. Application of the simulation training system: Volutracer OPUS. Dr. Daniel Cafici
Defining terms. Nomenclature in ultrasound. Dr. Fernando Gil
NT Plus / ADNf joint. Dr. Antonio Terrones
Echocardiography in the intensive care unit. Dr. Marcos Petti
Initiation to vascular Doppler. Technical optimization of vascular studies. Dr. Saúl Waisbein
Ultrasonographic evaluation of the cervix and screening for premature labor. Dr. Juan Pablo Comas
The Brazilian College of Radiology schedules the following webinar:
The Paraguayan Society of Ultrasound (SPE) held the following webinar: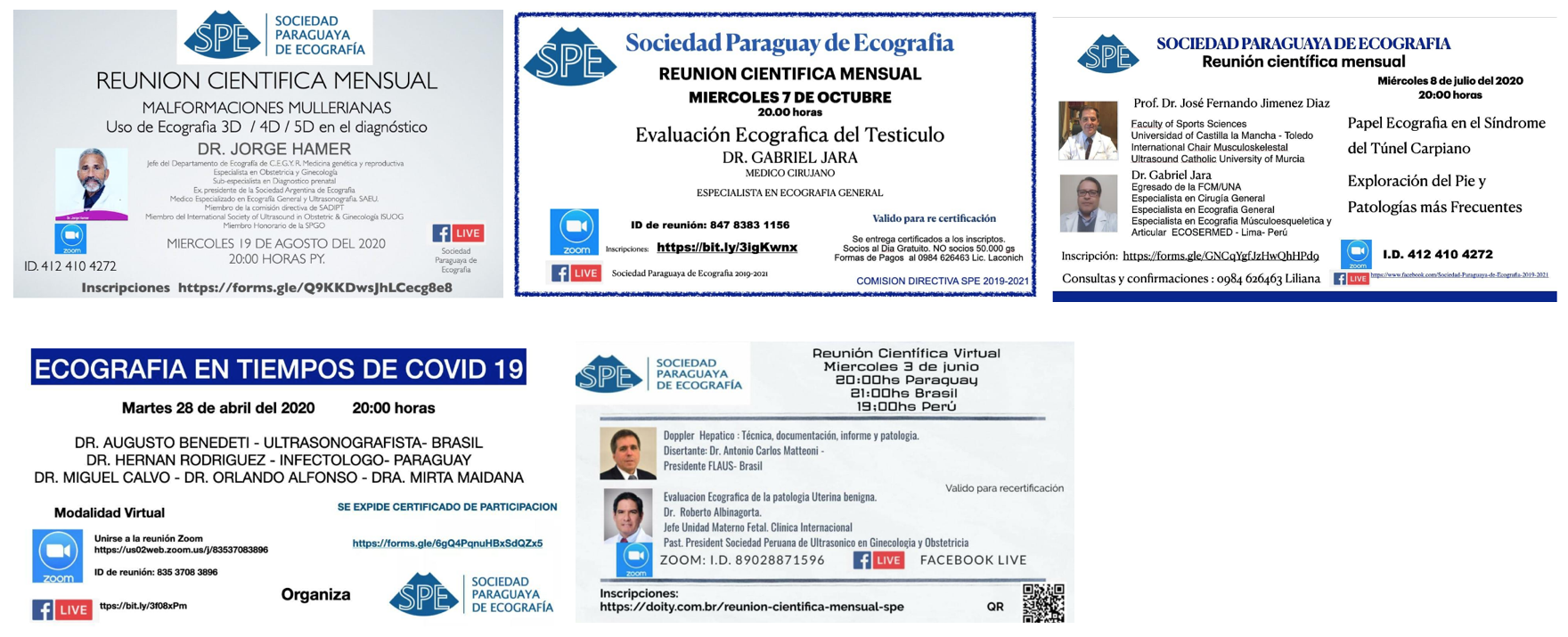 The Peruvian Society of Ultrasound in Medicine and Biology (SPUMB) programmed the following conference scheme in association with the Peruvian Medical Association in Musculoskeletal (AMPEME) and with the endorsement of FLAUS: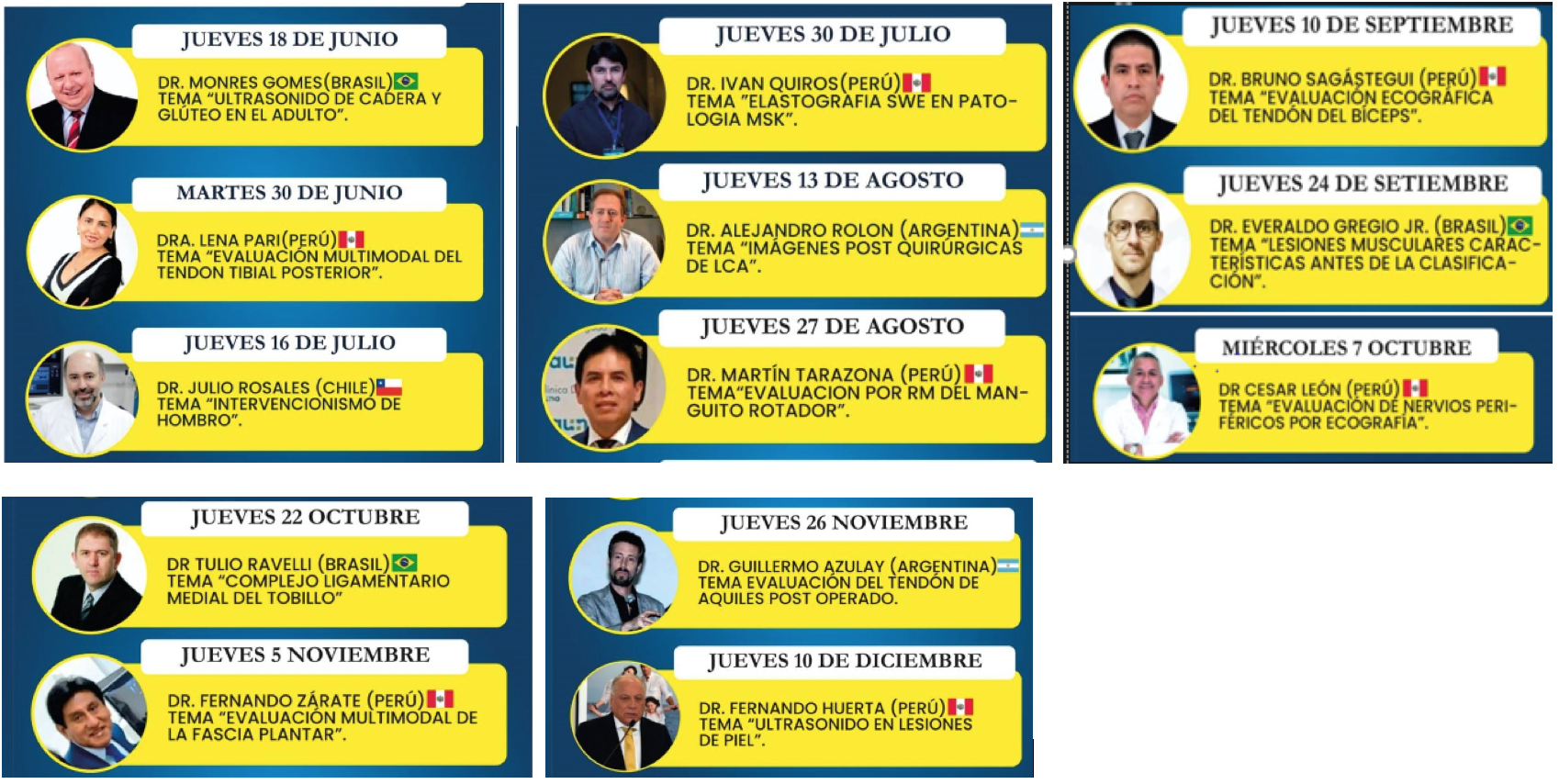 SPUMB also sponsors this Course on Musculoskeletal Ultrasound applied to Traumatology from October 24 to November 21: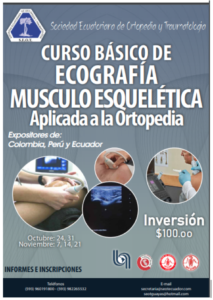 The Dominican Society of Sonography (SD SONO) presented two webinars:
LATIN AMERICA AND COVID 19
As of October 9, 2020, a total of 9,876,651 cases of COVID-19 have been registered in Latin America and the Caribbean. Brazil is the country most affected by this pandemic in the region, with more than five million confirmed cases. Colombia is in second place, with around 886,000 infected. Mexico, for its part, has registered a total of 804,488 cases. Among the countries most affected by the new type of coronavirus in Latin America are also Argentina, Peru, Chile and Ecuador. The data for Venezuela are not reliable.
Latin America and the Caribbean: number of deaths from COVID-19 by country 2020: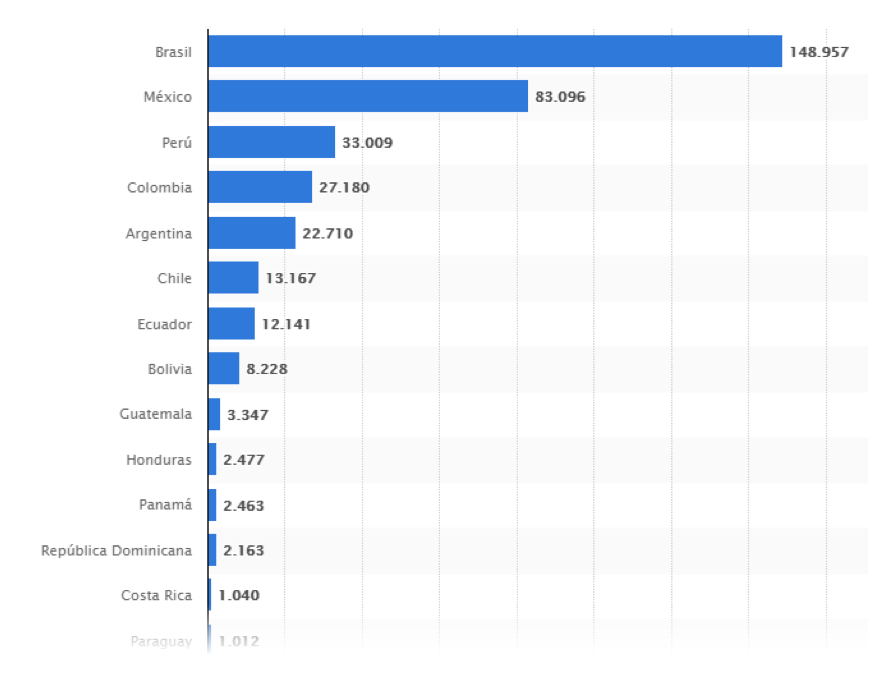 Until October 9, 2020, the majority of fatal cases of COVID-19 registered in Latin America and the Caribbean occurred in Brazil. With a total of 148,957 deaths, Brazil is the country most affected by this pandemic in the region. Mexico, for its part, has registered 83,096 deaths from coronavirus.
With the new outbreaks we are seeing in Europe, it appears that COVID 19 will still haunt us for a while and we must be safe.  What is encouraging about this new outbreak in Europe is that mortality has dropped dramatically, probably thanks to early diagnosis and better knowledge of the virus, changing the initial therapeutic schemes.
The number of deaths of health personnel in Latin America is very alarming.
I hope my next report is more optimistic.
Let's all take care of ourselves.



EFSUMB During the pandemic
Paul Sidhu – EFSUMB Administrative Councillor
Like all Scientific Societies, EFSUMB is having to adapt and modify the way we deliver education and information. Fortunately, remote working for the general secretary was adopted a few years ago so there has been no need for administrative changes, nor for the web administrator but is 'business as usual'.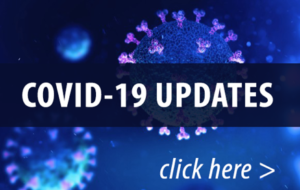 Our immediate response was to provide and share detailed and updated information on COVID-19 and its impact on ultrasound service delivery and EFSUMB activities. A dedicated section of the website brought all the news into one place, whether it was advising about cancelled or postponed meetings, online conferences, the use of lung ultrasound in COVID-19 management or ultrasound safety statements. EFSUMB hosted two webinars, one in April and one in May on the role of US in COVID-19 patient management and Lung US for the COVID era. The interest was extremely high in these topics and the webinar archive continues to bring in new visitors.
EFSUMB website
The EFSUMB website has been the source of a great deal of varied material, but in recent years the National Societies have felt that this was a resource being used worldwide rather than just by EFSUMB members, the Board of Delegates decided to create sections of the website exclusively for EFSUMB members as a benefit of their membership fee. Due to the impact of the pandemic, the COVID-19 area in the website was kept open to the general public.
With the constitutional changes individual members are now welcomed and can log in to the full website. We have faced some issues with log in but the web administrator responds promptly to iron out any difficulties. Please contact Suzanne via the website if your National Society has not provided your information for website access.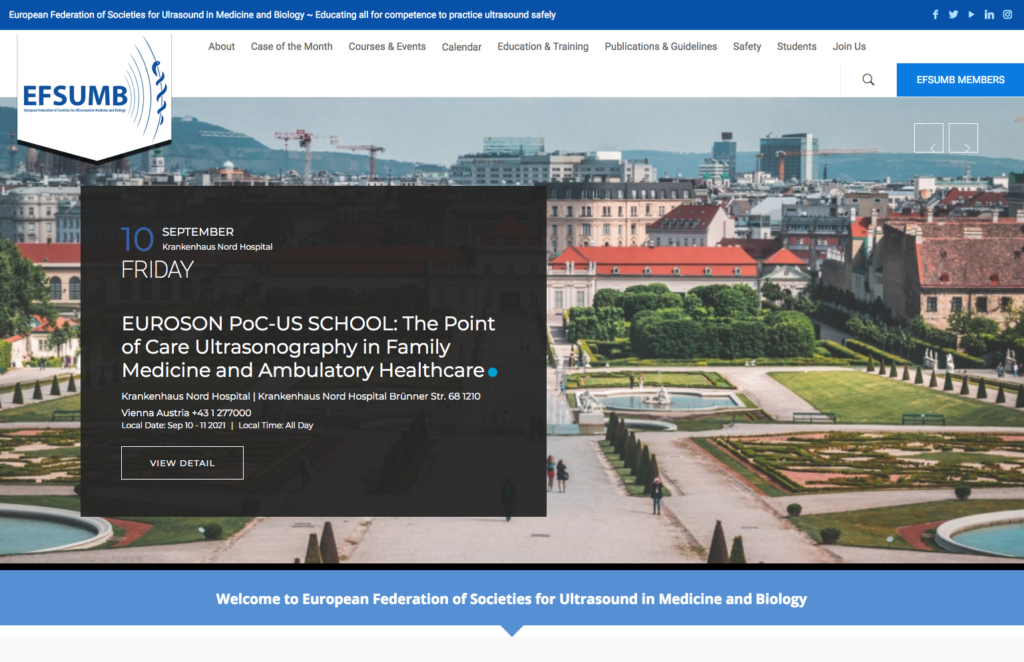 Offering more content has meant EFSUMB needs a new and faster platform to increase the website speed. We are taking advantage of the fewer changes that are usually necessitated by the Euroson Schools, Endorsed Courses and other meetings which have been postponed or cancelled, to make this upgrade along with an updated style and easier to navigate site.
The Case of the Month edited by Prof Adrian Lim continues to be the most visited area of the website and we will continue to try to meet the challenge of a new case each month. Contributions are always warmly welcomed. The recent installation of the Student Image Challenge has also brought a new set of visitors to the EFSUMB site with weekly cases hitting at least 16,000 hits in the first week after publishing.
Euroson Schools
The Euroson Schools have been severely disrupted, but the Munich School CEUS Hepatic and Extrahepatic Indications went ahead with appropriate personal safety measures in place. As some of the international speakers from China and Canada were able to attend, a hybrid course was planned with live talks relayed to the audience but still with the possibility of Q&A's with the experts. View the  Munich School CEUS Hepatic and Extrahepatic Indications
The PoCUS School in Vienna is postponed until September 2021 and has received EACCME accreditation.

The postponed London CEUS School has been confirmed.

It is not certain how the future Schools will be able to operate, but EFSUMB will consider more topic based online courses leading to certification.
Endorsed courses are held in the national language and may be more viable in countries that are less affected by the pandemic and where registrants are not travelling from abroad to attend these.
Ultrasound Learning Centres will be affected by the pandemic with the travel restrictions but remain an important option for those wishing to improve their specialist US skills without any costs to study at one of the 7 centres in Romania (Cluj Napoca and Timisoara), Switzerland, Spain, Norway, Italy or Germany.
EUROSON 2021
EFSUMB Board of Delegates voted to adopt a biennial congress (alternating with the WFUMB Congress) from 2023. The Congress organisers of EUROSON 2021 Timisoara, Romania have planned an extensive programme including postgraduate courses in PoCUS, MSK, Breast, Emergency US, Vascular, Gynae and Echocardiology. In addition, they are planning a separate Student Congress to run during the 26-29 May congress. Whilst the plans are being made the organisers have to keep a close eye on the COVID-19 situation. As the hopes of an early vaccine are fading, a decision will be taken before the end of the year whether to proceed, offer a virtual congress or postpone to May 2022.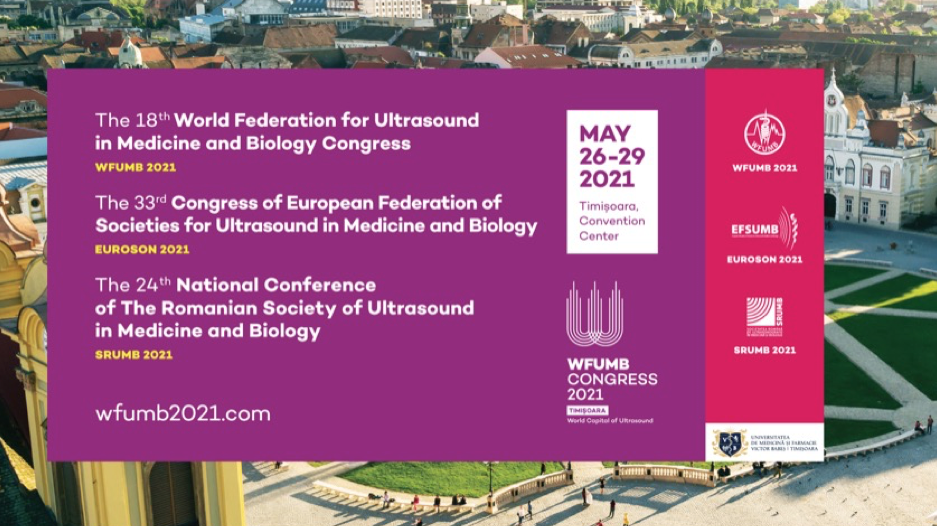 Some of our National Societies have held very successful virtual congresses, for example in Russia with 6000 participants. EFSUMB will be continuing its participation in other virtual congresses such as UEG, ECR, EASL and we are eager to learn how to adopt this for our future meetings. Our feedback from the US sessions at external congresses is always about the importance of hands-on training with demonstrations from the tutors and supervised scanning by the course participants. We need to find a way of being able to continue to provide this.
Guidelines
The CEUS Liver Guidelines are published in this issue but were ePublished earlier this year. To accompany this long-awaited update, EFSUMB has hosted three CEUS webinars so far this year. Two more webinars have been planned; one in September on CEUS for the management of focal liver disease and one in November on CEUS in non-abdominal organs. If you missed any of the previous webinars, they are available for free in the EFSUMB webinar archive.
Guidelines in progress
EFSUMB is working on developing guidelines online using electronic meetings and voting. We aim to improve harmonisation of guidelines and avoid duplication of topics, as the latter can be very confusing for users.  It is the role of the delegate to the National Society to communicate our programme. By inviting European experts (selected on their publication record) to share their experience we can ensure high quality English language guidelines. All EFSUMB guidelines follow our published guidelines protocol, which can be found on the EFSUMB website.
Currently under preparation are the PoCUS Guidelines, led by Prof Bob Jarman, which will be divided into three documents, thoracic/cardiac, abdominal and pelvic, and head/neck/procedures.
Musculoskeletal Guidelines are underway steered by Prof Daniela Fodor with EULAR representatives and looking at the clinical applications of US in MSK practice.
Future Guidelines
An Update of the Dynamic CEUS guidelines published 2012 is under discussion and we invite ideas for other potential guidelines topics.
Position Papers
Bosniak Cysts would have been the focus of the EFSUMB/ESR session at ECR. A paper is almost ready for publication and amongst the objectives is to review the classification of complex renal cysts and the relationship to malignancy, to appreciate the need for a CEUS classification of these complex cysts and to review and understand the nature of the enhancement of complex cysts with CEUS.
A Paediatric CEUS paper is almost ready and is the result of the database registry which collected adverse paediatric reactions to CEUS. This is eagerly awaited.
A paper looking at Professional Standards for ultrasound users is being developed by the Education Committee (EPSC). This publication considers the basic principles of what quality standards make medical ultrasonography a professional service in the context of medical imaging, regardless of "who´s doing your scan". There have been controversial discussions about whether ultrasound can be effectively carried out by clinicians without medical degrees.  In many countries US is carried out by radiologists (except in special areas like cardiology and prenatal medicine). In other countries imaging specialists play a role and medical ultrasonography is performed by non-medical examiners, in accordance with local regulations.
Head & Neck Training Standards led by Tobias Todsen and Julian Kuenzel will focus on the following:
minimum education standards
minimum technical standards
content of complete head and neck ultrasound examination B-Scan with contributions from endocrinologists and radiologists 
minimum documentation standards
comments on the role of CEUS and Elastography
EFSUMB Course Book (ECB)
EFSUMB is working to add the remaining chapters to the website. These are offered for purchase after an opportunity to view part of the chapter. A few chapters are offered free of charge. Prof Christoph F Dietrich is the Editor of the second edition and without his tireless energy and the generous authors' contributions we would not be able to offer this vast learning resource.
Virtual committee meetings
All the EFSUMB Committees, Safety, Education, Publications and Student Committee and the Executive Bureau have been meeting virtually for some years now. This has proved to be cost saving but as colleagues are more time pressed this has become a practical way forward. The EUROSON Congress is the time the Committees get to meet in person when presenting as lecturers and moderators. We sincerely hope that the pandemic will not disrupt this important calendar event – EUROSON 2021 is conjoint with WFUMB 2021 and the congress organisers have devoted themselves to producing a scientific programme of quality and excellence from which we can all benefit.



AIUM Report

AIUM has a dedicated page of ultrasound-related COVID-19 Resources
Links to Cleaning, Safety, and PPE Recommendations:
• Guidelines for Cleaning and Preparing External- and Internal-Use Ultrasound Transducers and Equipment Between Patients as well as Safe Handling and Use of Ultrasound Coupling Gel.
• Patient and Ultrasound Provider Protection Quick Guide
• Ultrasound Transducers, Equipment, and Gel Quick Guide
---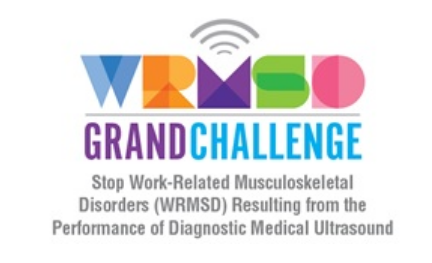 AIUM Joins Pioneering Alliance to Stop Work-Related Musculoskeletal Disorders Resulting from the Performance of Diangnostic Medical Ultrasound – Sonographers, physicians, and other medical professionals performing ultrasound scans are suffering from work-related musculoskeletal disorders (WRMSD) at an alarming rate. It is critical to stop the rapidly growing incidences of WRMSD in ultrasound professionals for the ongoing health and well-being of both patients and medical professionals. WRMSD cause pain in muscles, nerves, ligaments, and tendons and develop progressively over time. Living and working with constant pain takes a toll on medical professionals and can cause absenteeism from work, the inability to perform simple tasks of daily living, and in some cases long-term disability or career ending injuries.
A pioneering alliance of leading ultrasound organizations is seeking partners to join in this grand challenge to stop WRMSD resulting from the performance of diagnostic medical ultrasound. WFUMB is encouraged to participate in this effort and in the next (virtual) summit, which will take place in early 2021.
---
AIUM Education

Online Learning at AIUM Gets a New Look
The AIUM recently launched a new Online Learning Center, providing a central location for the society's online library of 250+ journal, lecture, and webinar education products.

In-Person Learning at AIUM Headquarters Set to Launch
AIUM's new state-of-the-art training center, complete with 16 hands-on learning bays, is nearing completion. The training center is located at the AIUM headquarters in Laurel, MD.
---
Upcoming Events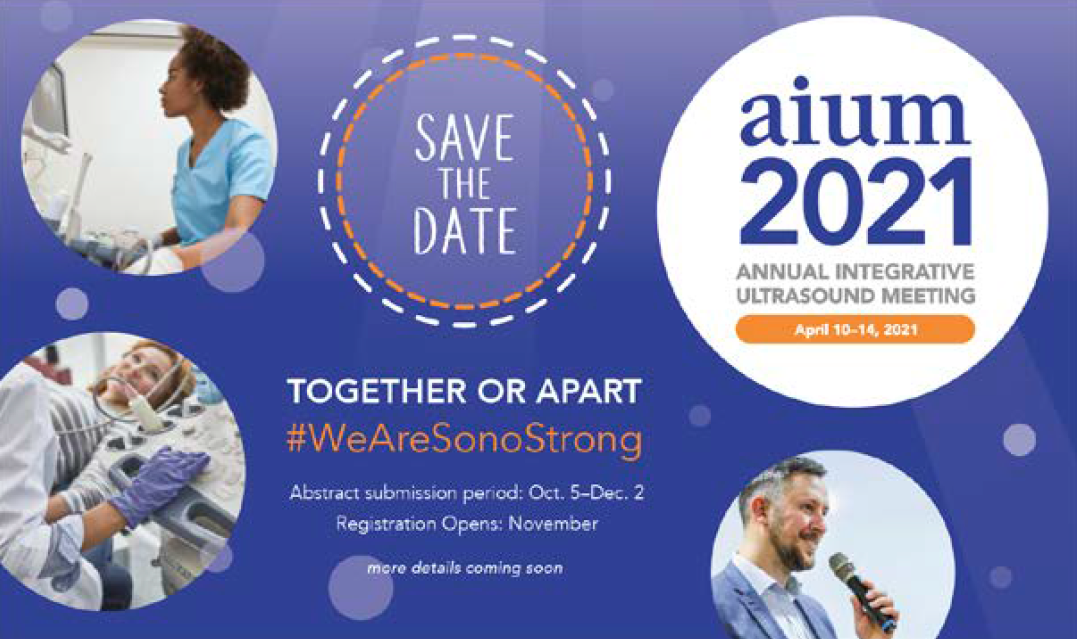 • 2021 Advanced OB-GYN Ultrasound Seminar: Feb 17-20, 2021 ~ Orlando, FL
• AIUM 2021: April 10-14, 2021 ~ Orlando, FL
o Abstract Submission Period: Oct. 5-Dec 2.
o Registation Opens in November
• AIUM 2022: March 12-16, 2022 ~ San Diego, CA
---
Other Resources
Resource Library – The AIUM Resource Library provides members online access to publications on topics such as ultrasound techniques, terminology, safety and bioeffects, and quality assurance for all professional levels.
Recently updated:
• Standard Presentation and Labeling of Ultrasound Images: Sixth Edition
• Recommended Ultrasound Terminology: Fourth Edition
The SCAN – The AIUM's official blog turns 5 in 2020.
• Our top posting: "Ultrasound Can Catch What NIPT Misses"
Case Challenges – Test your knowledge. Review a clinical history and image or video clip, then choose your diagnosis and see how you compare to others who took the same challenge.
Enhanced Guidelines – 11 enhanced guidelines available – CME tests free to members.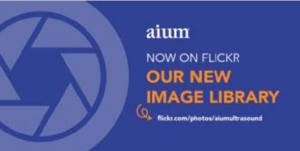 ---
Thank you for the opportunity to provide the WFUMB with this update on our activities. As always, we welcome opportunities to collaborate with WFUMB on projects of mutual interest.

About AIUM: The American Institute of Ultrasound in Medicine is a multidisciplinary medical association of nearly 10,000 physicians, sonographers, and scientists dedicated to advancing its mission by providing education, fostering best practices, and facilitating research. We believe that utilizing ultrasound first results in safe, effective, and affordable medical imaging that improves patient care. For more information, visit www.aium.org.



ASUM Report
Fredrick Joshua

While ASUM hoped to be celebrating a significant milestone in 2020, recognising 50 years of the society and the amazing contribution of our members throughout this period, it was not the time for celebrations. Our deepest gratitude continues to go out to our members, all doctors, sonographers, allied health, researchers, scientists and other healthcare services for their commitment and professionalism in the fight against COVID-19. We recognise and thank all healthcare providers globally for the care they have shown to their patients and colleagues.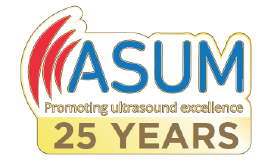 In recognition of our many members who continue to support ASUM over many years, we have recently acknowledged and thanked them for their support as we were not able to recognise this at our conference. Let's hope we can celebrate this in 2021.
Following the Annual General Meeting held in November 2020, ASUM welcomed a new President, Dr Karen Mizia, to lead ASUM through the implementation of the strategic plan. ASUM gratefully acknowledges the leadership of A/Prof Fred Joshua, ASUM President 2018-2020 during a challenging time.
"With Fred's leadership, ASUM has developed a more inclusive way of thinking. ASUM is striving to create an ultrasound community rather than a society. Together we are stronger than we are as individuals. Whether that be in relation to standards, education or advancing the profession of ultrasound. I believe in what we are creating here at ASUM and I trust we can continue developing the vision"- Karen Mizia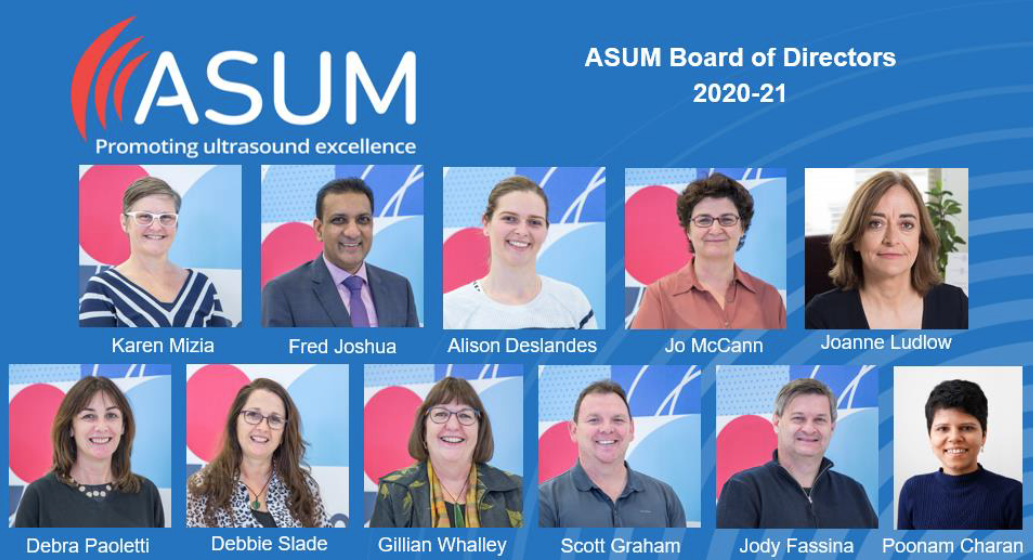 AWARDS OF EXCELLENCE
The 2020 Awards of Excellence were held virtually this year, recognising the outstanding achievements of many ASUM members who ocontinue to strive for ultrasound excellence. Congratulations to our award winners and thank you for all that you do.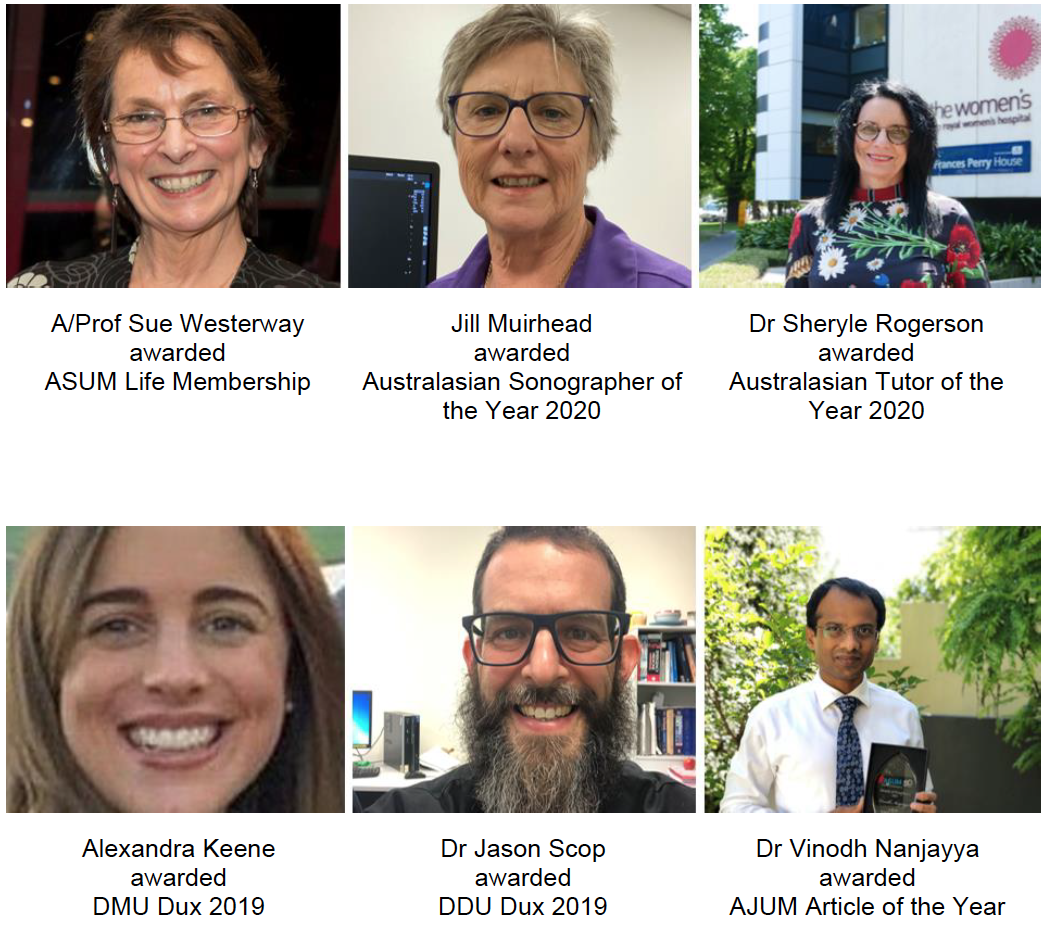 OUTREACH

While Outreach work has been restricted, ASUM has recently supported a member in Fiji, Litia Kama Balenaivalu, providing complimentary access to online physics and instrumentation education. While there were a few technical challenges, the ASUM team were on board to support this opportunity, providing access and support for continual learning to benefit healthcare professionals and patients alike.
"Provision of this ASUM's online Physics and Instrumentation program is of great benefit as it is empowering to deliver high patient care. In my country Fiji, it's a great opportunity to be updated with continuous professional development and preparing for any accredited post graduate programs in ultrasound which is still not available locally".
ASUM continues to support Outreach initiatives and consider options to deliver online education where appropriate, supporting education to promote ultrasound excellence.
EVENTS
ASUM has been working continuously to provide educational opportunities for our members and the wider ultrasound community, with a solid webinar program offering two webinars per month.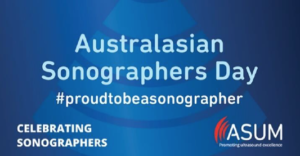 The October schedule during Medical Ultrasound Awareness Month offered four webinars, supporting Australasian Sonographers Day and collaborating with the Sonographers Writing and Publishing team in the UK to encourage those looking to take on the challenge of publishing and research in the field of ultrasound.
Our annual conference in New Zealand was held in October in the beautiful city of Christchurch. While numbers and travel were limited, the New Zealand team put on a fantastic show, catering for those attending face to face, as well as virtually.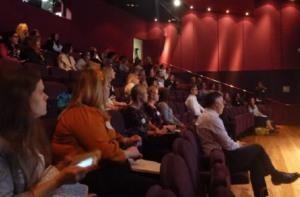 A special thank you to Penny Cain for her work and patience in delivering the meeting. Our corporate partners play a key role to enable ASUM to provide education and we thank GE Healthcare, Philips, Canon Medical, Philips, Connected Healthcare Systems, Biodecon, Fujifilm Sonosite, Global Medical Solutions, Obex Medical and Tristel.
We are now rebooting our plans for our 50th conference and hope to be able to come together in Sydney on the 19-21 November 2021 to learn, teach, network, recognise and enjoy the 50th celebrations.
ASUM would like to sincerely thank and acknowledge our scientific committee for their ongoing commitment to ultrasound education and ASUM2021. We thank you for your support and look forward to welcoming you to Sydney in November 2021.
AJUM
We are now in the fifth year of our productive relationship with the publisher Wiley. In 2019, 6,771 institutions offered access to the latest content in AJUM. Philanthropic initiatives extended low-cost or free access to current content to 6,193 developing world institutions. In addition to this, Wiley have supported free access to AJUM articles relating to COVID-19 to further support healthcare providers to access the latest research and information to support patient care.
This partnership has improved the visibility of the AJUM both nationally and internationally, with 76% of readership outside Australasia in 2019. Online readership again doubled in 2019, exceeding 80,000 full text article downloads in the year. As ultrasound continues to expand and diversify, AJUM will continue to meet the needs of all ultrasound professionals in line with the aims of the journal.
The November issue of AJUM is now available and includes original research on teaching the complex psychomotor skills required by sonographers and sonologists. Delwyn Nicholls was awarded her PhD posthumously, recognising her research and findings to support for teaching ultrasound skills for years to come.
EDUCATION
Thank you to our Diploma of Medical Ultrasound (DMU), Diploma of Diagnostic Ultrasound (DDU) and PgDMU Asia Board of examiners who have worked tirelessly with the ASUM education team to deliver virtual assessments over the last few months. This additional work, planning and testing have been substantial to ensure appropriate standards, quality and governance, while enabling the many students to continue their learning.
The Certificate of Clinician Performed Ultrasound (CCPU) has seen an increase in course accreditation across multiple sites to provide learning opportunities to trainees where courses have been restricted. We are also looking forward to introducing new CCPU offerings in 2021.
ASUM is greatly appreciative of the many members who volunteer their time on an education committee, as an examiner, trainer or supervisor, as they continue to make significant contributions of their time and expertise to support the Society and those currently studying ultrasound programs with ASUM.
Stay safe. Stay healthy.



MASU Report
Hassen A. Gharbi
First of all the MASU members are very sad, the loss of Professor Harvey Nisenbaum, WFUMB past President, great friend of Africa is a terrible event. We sent all our condolences to Sylvia, his lovely wife, and to all the WFUMB family. He was a great support for all the WFUMB African MASU projects since the beginning.
During this last turbulent period, the MASU board couldn't work as hard as usual for the promotion of WFUMB goals in Africa,
All the planned courses and projects were cancelled.
WFUMB's important recommendations prepared by the safety committee, chaired by Jacques Abramowicz, were shared with all the MASU members, in English, French and Russian.
We continue to try to promote the use of ultrasound in our area countries, mainly Sudan, Libya, Algeria , Saudi Arabia and Oman, thanks to the great efforts of Abbattista Theresa , Dieter  Nürnberg , Mohamed El Fortia, Wiem Khomsi Douira, Boudjema Mansouri  …however, the COVID 19 and the economic situation are not favorable for such discussions today.
We hope to have our next MASU Congress, in 2021 somewhere I our area, under the auspices of WFUMB, but the situation in the world is very difficult to manage, however we will do our best.

AFSUMB Report
Iwaki Akiyama
AFSUMB has faced to the COVID-19 pandemic since the beginning of 2020.  The urgent issues related to the pandemic among the officers and the related persons and were decided to respond as follows;
The AFSUMB Congress 2020 was postponed to September, 9-12, 2021 in Beijing, China.
The AFSUMB Congress 2021 will be held as scheduled in Hyderabad, India in 2022.
The AFSUMB Workshops in Nepal and Mongol were post postponed to 2021. Details will be reported by the Chair of Education Committee.
According to the Constitution of AFSUMB, General Assembly is regulated to be held every two years during the AFSUMB Congress. Online meeting is, however, currently accepted by various societies and federations. The term of Administrative Council is two years and the possibility of holding the Congress in 2021 is still unpredictable. Judging from these situations, it was concluded that the General Assembly and Administrative Councilor's Meeting was held online on August 28, 2020.
Extraordinary voting of Ballot of election of the officers and Administrative Councilors was carried out. The results were obtained as follows;
JSUM bid WFUMB Congress 2025 which will be held in Kyoto, Japan.
President-elect

Dr. Iwaki Akiyama (JSUM)

Vice-President 1

Dr. Yoshiki Hirooka (JSUM)

Vice-President 2

Dr. Sudheer Gokhale (IFUMB)

Secretary

Dr. Jeong Yeon Cho (KSUM)

Treasurer

Dr. Ching-Chang Hsieh(CTSUM)

Councilor

Dr. Masayuki Kitano (JSUM)

Councilor

Dr. Jae Young Lee (KSUM)

Councilor

Dr. Kowk Yin Leung (HKSUM)

Councilor

Dr. Ping Liang (SUM/CMA)

Councilor

Dr. H. Sidharta (ISUM)

 

Councilor

Dr. Pei-Ming Yang (CTSUM)


Greeting from KSUM 2020 Online Congress, Seoul, Korea
Jae-Joon Chung, M.D. Chair, Organizing Committee
The 40th Anniversary & 51st Annual Congress of the Korean Society of Ultrasound in Medicine (KSUM 2020) was successfully held in Korea on November 16-17, 2020 in the form of an online Congress under the theme "From 1980 to the Future of KSUM."
Despite the challenges presented by the current global pandemic, KSUM 2020 was held with great success with a high level of participation. A total of 1,239 participants from 25 countries registered, and the number of real-time users was 700 to 800 throughout the Congress.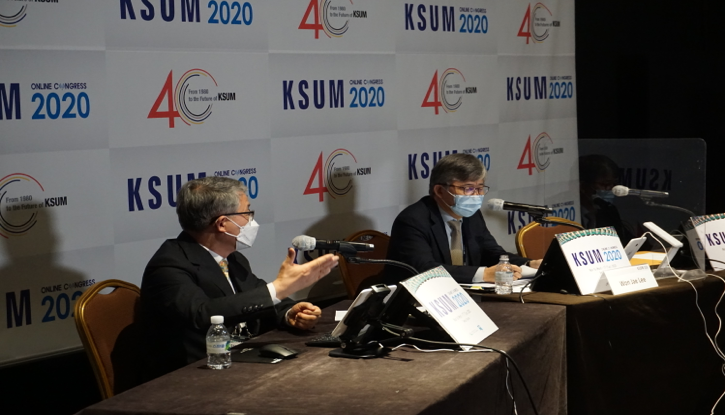 KSUM 2020 operated a total of six live sessions simultaneously, and participants were able to attend 156 invited lectures and 35 oral presentations in real time via the webinar page. This included asking questions in real time through the Q&A window. The chairs of each session checked the questions on behalf of the participants, and conducted Q&A sessions with the invited guests. All foreign speakers and domestic speakers who had difficulty attending the on-site conducted the live Q&A via Zoom. For participants who missed the sessions, KSUM 2020 has been providing VOD services to registrants since the following day after the live sessions.
In addition to the live sessions, 73 e-posters were exhibited on the online platform. The all new KSUM 2020 'Ultrasound, the Best' which included 17 video presentations of cases in which ultrasound was used in diagnosing diseases also garnered active interest from the Congress participants.
In order to encourage high-quality academic activity and globalization, various awards including the Young Investigator Award and Best Poster Award were conferred to both domestic and foreign doctors. Additionally, the KSUM 2020 online platform featured online booths of eight sponsors and promotional pages of 12 exhibitors that provided information on the latest equipment related to ultrasound.
KSUM 2020 was held as an online Congress to share new innovations in the field of ultrasound amid a global crisis in which an offline Congress was not possible. KSUM will be held on May 13-14 in 2021, and we will have overcome COVD-19 by then and be able to meet in person in Seoul.


We look forward to meeting you all at KSUM 2021 in Seoul, Korea!


Ethiopian COE Report
Odd Helge Gilja

It is just one year since WFUMB together with NCUG in Bergen and the Ethiopian CoE arranged an ultrasound course in Mekelle, Ethiopia. These days, it is very sad to see the same city being surrounded by tanks and bombed during a devastating civil war. How things change rapidly in our fragile world.
The first WFUMB course in Ethiopia leading up to a CoE was held at Black Lion Hospital in Addis Ababa in March 2013. WFUMB was represented by Harald Lutz, Paoletta Mirk, Christian Nolsoe and Odd Helge Gilja, who lectured in subjects like abdominal ultrasound, Ob&Gyn, testis and thyroid.
NCUG (National Centre for Ultrasound in Gastroenterology) in Bergen, Norway started their collaboration with Black Lion in 2011 by providing lectures, courses, clinical supervision, and donating equipment for ultrasound scanning and endoscopy.  In 2011-13 NCUG organized three post-graduate courses on various ultrasound subjects including hands-on training, thus opening the doors for WFUMB and paving the way for the establishment of a CoE.
The Ethiopian Society of Ultrasound was inaugurated 30. September 2013. However, the legitimacy of this Society was later debated due to some bureaucratic obstacles. Subsequently,  21st of March 2014 WFUMB established a Center of Education (CoE) in close collaboration with NCUG, and Department of Medicine and Department of Radiology at Black Lion Hospital.
After the inauguration ultrasound course in 2014, the WFUMB CoE has conducted 4 more post-graduate courses in Addis Ababa; as well as in regional cities like Gondar, Arba Minch and Mekelle.
The last course in Mekelle was well attended, received excellent written evaluation.




Philippines COE Report
Bee Giok Tan-Sales,MD 
The Philippine Society of Ultrasound in Clinical Medicine, Inc. (PSUCMI) launched our newly revitalized website: www.psucmi.org last August 17, 2020.  This new website will help us reach out to our old and new potential members. It will also provide easier access to ultrasound related educational materials.
To coincide with the launch, PSUCMI together with our educational partner, SIEMENS Healthineers, hosted a webinar entitled: The Role of Lung Ultrasound in COVID-19 Disease. It is the first online educational activity and webinar hosted by PSUCMI.  The lecture was given live by Professor Dirk-André Clevert, M.D., section chief of the Interdisciplinary Ultrasound Center at The Ludwig Maximillian University of Munich.
We also invited two contributory reactors to share their insights and experiences in lung ultrasound after the lecture: 1. Dr. Romulo Brasil Babasa III, an Emergency Medicine Specialist from St. Luke's Medical Center Quezon City and 2. Dr. Julie Christie Visperas, a Pulmonary and Critical Care Medicine Specialist from the University of Santo Tomas Hospital, Manila. The webinar was moderated by Dr. Anna Lyn Egwolf from St. Luke's Medical Center.
Participants were also given the chance to ask questions to our speaker and reactors.
The event generated 714 registrants with 505 actual participants, a record above our expectation. Participants came from various medical specialties, from various institutions all over the Philippines. We also had international participants from Myanmar, Malaysia, Thailand, Singapore, Qatar, Saudi Arabia, India, Bangladesh and Japan.  It was a very fruitful and interactive educational experience for everyone.
PSUCMI 18th Annual Convention Write Up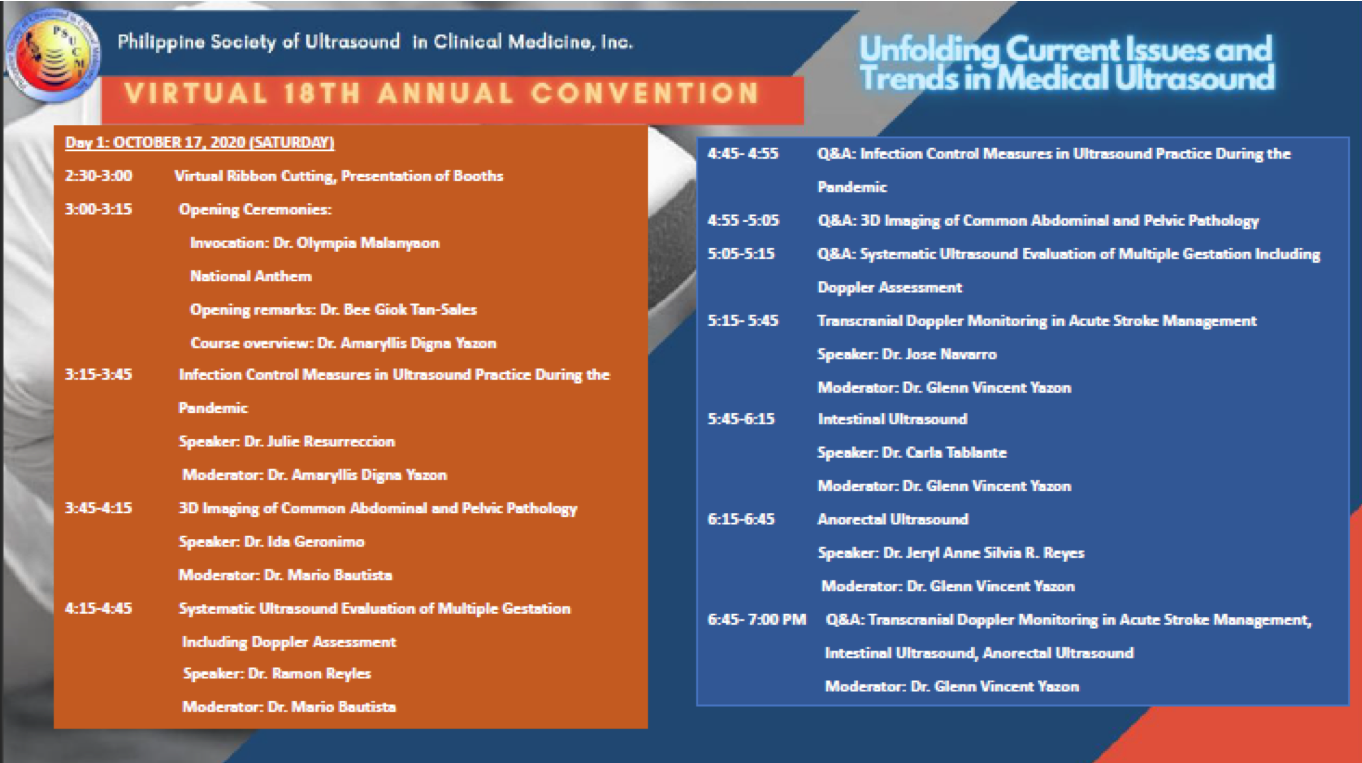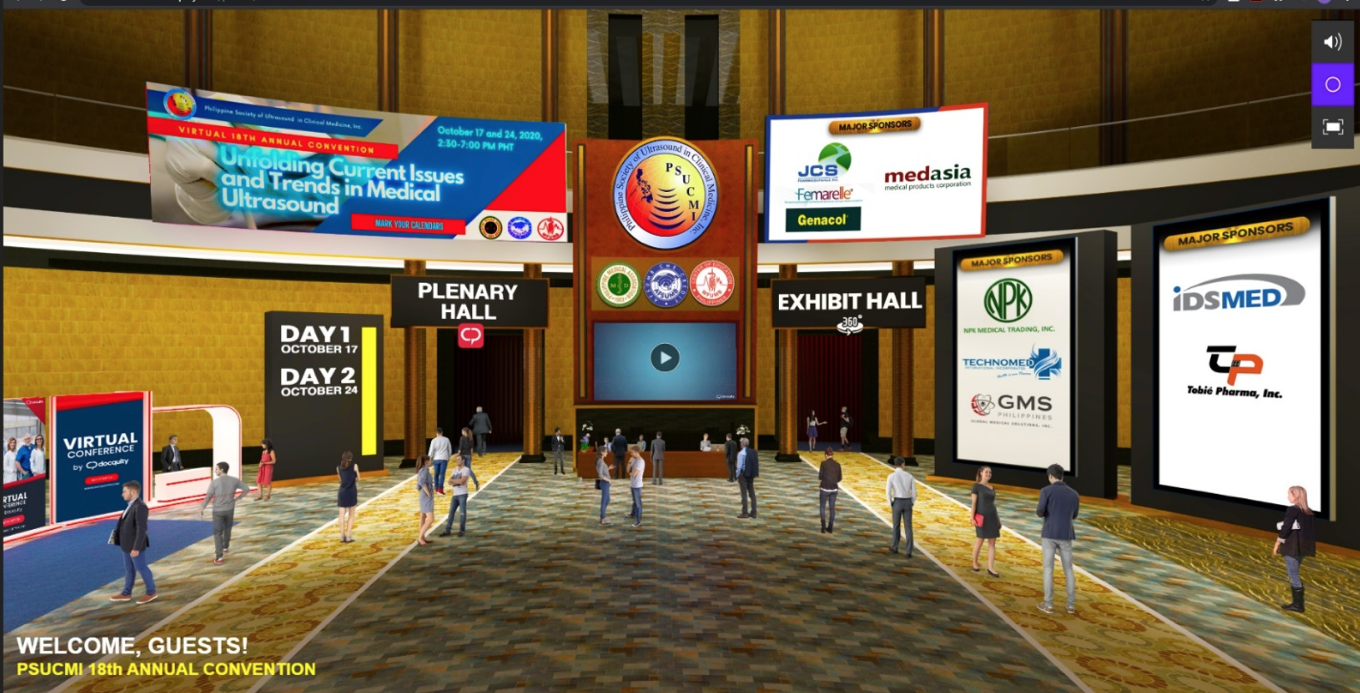 The Philippine Society of Ultrasound in Clinical Medicine (PSUCMI) just successfully hosted its 18th Annual Convention, "Unfolding Current Issues and Trends in Medical Ultrasound" via an online platform last October 17 and 24, 2020.
The convention scheduled on March 27-28, 2020 at Century Park SheratonHotel, Manila was cancelled due Covid-19 Pandemic Lockdown (ECQ), the organizing committee has decided to postpone the convention to a later date for the safety of our delegates, speakers and sponsors. With no immediate end in sight for the pandemic and with PSUCMI's commitment as a WFUMB Center of Education, the organizing committee decided to convert the face to face convention into an online virtual convention.
PSUCMI partnered with Docquity as our platform provider. The convention was scheduled on two Saturdays, October 17 and October 24, 2020 at 3-7pm to allow more doctors and allied health professionals to attend the event. The Convention program was streamlined into 12 lectures, 6 pretaped lectures per day and 10 minutes  of  live question and answer part. A virtual hall and virtual booths were 3D rendered for our sponsors.
Relevant topics in the practice of Ultrasound in the Philippines was included in the program including: The New FDA Guidelines on the Use and Operation of Ultrasound in the Philippines, Data Privacy in Ultrasound Practice, Systemic Ultrasound Evaluation of Multiple Gestation.
COVID-19 pandemic relevant topics were also included such as: Infection Control Measures in Ultrasound Practice During the Pandemic, Lung Ultrasound in COVID-19 Disease and its correlation with Chest X-ray and CT-Scan and Assessment of the Vascular System in COVID-19 Patients.
The event was well attended with a total of 643 registrants from various medical background and specialties such as Radiology, Pediatrics, General Surgery, Occupational Medicine, Oncology, Anesthesiology, Rheumatology, Physical Medicine and Rehabilitation, Pathology, Cardiology, Pulmonology, Emergency Medicine, Family Medicine, Obstetrics and Gynecology, Infectious Disease Medicine, Orthopedics to name a few. Allied medical professionals such as radiology technicians were also present during the convention.
The convention was well received by the attendees with a 97.0% positive response based on the post- convention analysis.
This is the first full online convention that was hosted by PSUCMI. Due to the changing landscape in delivering medical education during the pandemic, hosting it was a great learning experience for the organizing committee and ultrasound vendors alike.
Indeed, we as physicians and an organization have to learn and cope with the present global woe and move forward as one in this fight for an invisible foe with full resolve to carry on our Hippocratic oath.




A sad goodbye to  a WFUMB Family Member


It is with great sadness that we say goodbye to Harvey L. Nisenbaum, 77, of Wynnewood, Pennsylvania, past president of the World Federation for Ultrasound in Medicine and Biology (WFUMB), who died Thursday, October 8, 2020, of complications from glioblastoma at Penn Hospice at Rittenhouse, Philadelphia, Pennsylvania. Memoriam here >>

Harvey was our great friend and a WFUMB Family member and we share our memories here in celebration of his wonderful life and amazing achievements within WFUMB.

ASUM Vice President
1989 – 1991  

WFUMB Pioneer Award 1988
Q: How and when did you become involved in ultrasound?

I started my ultrasound career in Sydney in the mid 1960s at a research laboratory that later became known as the Ultrasonics Institute (UI). With a team of scientists, engineers, technicians and medical consultants, UI became a world leader in ultrasonic imaging covering many areas in the body. I was fortunate in leading the research into small parts imaging consisting of the breast, thyroid and scrotum. With UI's development and introduction of grey scale technology in 1969, ultrasonic examinations of these organs rapidly gained clinical acceptance.
The emphasis of my research was on breast imaging using a mechanised scanner (then known as an echoscope) with water-bath coupling to the patient's breast. A series of cross-sectional images were obtained in increments of 2mm enabling the whole breast volume to be examined in detail – scanning speeds were slow taking 20 seconds per image. By clearly displaying all the breast constituent tissues, changes in echo patterns from benign conditions and early breast cancers could be demonstrated. Modifications to the scanner enabled the equipment to be used for thyroid and scrotal imaging.  
Q: Were there any particular people that influenced your work?

Many collaborators were influential in developing my research career with their determination that ultrasonic imaging could make an important contribution to medical science. Foremost were George Kossoff (UI), David Robinson (UI), Tom Reeve (RNSH, Sydney), and Sefton Wellings (Davis, USA)
Under the leadership of George Kossoff, the Ultrasonics Institute was established in 1959. Together with David Robinson, these two individuals were the motivating force that drove the Institute to its high ranking in the world of ultrasonic imaging from the 1960s to the 1980s. Both were energetic, and followed their visions that pushed the boundaries in what then was a new and developing field of biomedical engineering. To them, I am extremely grateful for the opportunity of being a member of the UI team.
Dedicated research-orientated medical consultants were very much part of each organ specific research team, and for the breast the close collaboration with Tom Reeve, Head of Surgery of the University of Sydney at the Royal North Shore Hospital (RNSH), proved to be a rewarding long-lasting relationship that was instrumental in developing breast ultrasound into an important imaging modality for breast disease evaluation and management. Ultrasound examinations were quick to show the clinical potential of this new technology by demonstrating normal breast anatomy, and changes in tissue morphology when disease was present.
An important aspect in developing the grey-scale interpretation criteria was the collaborative study undertaken in Sydney towards the end of 1970s with Sefton Wellings, an expert in comparative pathology from the University of California (UC Davis) in the USA. The study correlated the echo producing structures found in breast anatomy and pathology by comparing sub-gross anatomical slices with the high resolution grey scale ultrasonic breast images from the Royal North Shore Hospital. This research facilitated the development of diagnostic criteria for breast conditions.  
Q: What were your career highlights?

My career was divided into two parts: the first in medical ultrasound research; the second in international education.
In summary, the research into breast ultrasound from 1965 to 1990 at the Ultrasonics Institute consisted of the development of water bath scanning equipment with optimised transducer focusing, the measurement of acoustic tissue parameters and the introduction of velocity compensation into cross-sectional imaging, the implementation of grey scale imaging to breast ultrasound, the correlation of pathology specimens with images, the development of grey scale interpretative criteria for pathology, the extension of the criteria to include secondary features of lesions, the introduction of combined Doppler blood flow assessment with cross-sectional imaging leading to the evaluation of the complementary role of flow assessment to breast imaging.
The second part of my career from 1991 onwards took me into the field of international education when I formed the International Breast Ultrasound School (IBUS) – now known as the IBUS Breast Imaging School. With a dedicated team of breast specialists, this organisation based in Europe provides a series of intensive accredited courses (mainly, three days in length) consisting of didactic lectures, panel discussions, interactive case presentations, and practical workshop sessions with an emphasis  on "hands-on" training. The IBUS Breast Imaging School became the leading international provider of breast imaging courses by providing more than 120 programs to over 12,000 clinicians and technologists from many parts of the world.
In 2009, I was awarded the AM, a Member of the Order of Australia for "services to medicine through the development of diagnostic ultrasound equipment, particularly in the field of breast disease and education programs for health professionals". 
Q: What are your impressions of the ultrasound technology available today?
There have been significant developments in breast ultrasound with improvements in transducer sensitivity and signal processing resulting in better definition of the anatomy and constituent tissues – disruption due to pathology is more clearly displayed. This is important for an accurate primary diagnosis and for interventional procedures that rely on the accurate differentiation between normal and abnormal tissues. In the breast, ultrasound guidance is the method of choice for percutaneous biopsies or pre-operative localisations, and the high quality images available today clearly delineate the regions of interest. Advances in technology will further improve image quality, and provide ultrasonic imaging systems that are smaller, more mobile and easier to use.  
In recent years, a number of automated whole breast ultrasound systems have been produced and evaluated in an attempt to improve the acquisition of images, and provide a more efficient method of displaying the total breast. These systems offer an imaging protocol that is consistent and reproducible, and the examination is less dependent on the skills of the operator. The concept of introducing a more automated approach to image acquisition is similar to the design philosophy prevalent for ultrasound water bath research scanners developed by the Ultrasonics Institute under the guidance of George Kossoff.
One of the areas that is making significant progress is quantitative transmission ultrasound imaging. This has recently become practical with advances in technology allowing tissue parameters such as speed of sound and attenuation to be measured and displayed in addition to the conventional reflected ultrasonic images. The advantages of this modality are that it is fully automated, and there is no compression applied to the breast which is immersed in a water tank. Reconstructed representations of the whole breast are generated using all the tissue parameters resulting in a 3D display of breast volume.
Q:  Are you still involved with the ultrasound world?

My responsibilities with the IBUS Breast Imaging School have diminished considerably although I am still involved in executive activities, and as a result, I remain in close contact with colleagues in Europe and the USA. I also keep contact with colleagues from the Ultrasonics Institute, and we are fortunate to have had productive and lasting friendships since the early days of medical ultrasound in Australia.
April, 2019.  Sydney/Australia