Dear WFUMB Family Members
Welcome to the first issue of ECHOES for 2021. In this edition Seung Hyup Kim reflects on his Covid19 affected presidency and we introduce WFUMB's first female president, Cristina Chammas from FLAUS, along with the new WFUMB Council.
With countries still battling to protect its citizens from COVID19, international travel continues to be severely restricted.  As a result our Federations have successfully adapted the way in which they deliver education by conducting a combination of onsite & virtual webinars / workshops.  The WFUMB 2021 meeting that was to have been held in May in Timisoara, Romania, is one such example of a successful virtual event. The links to many of these events are on the WFUMB website, which continues to offer outstanding education  opportunities.
Enjoy this ULTRASOUND CONNECTION with this issue of ECHOES and we encourage our WFUMB family to spread the good news.
Sue Westerway (ASUM)

Outgoing Presidents message
Dear WFUMB Members
Time flies so fast and now we are closing a page and opening another new one in the WFUMB history.
When I, as the incoming president opened a page in October 2019, I emphasized two directions WFUMB needs to focus on, horizontal and vertical. We planned various activities for the horizontal promotion of WFUMB missions and also for the vertical promotion of ultrasound excellence with a slogan of 'ultrasound, the best'.
However, we encountered an unprecedented disaster of the COVID-19 pandemic and almost all planned physical activities were canceled or postponed. Instead, we tried to execute our activities utilizing various online communications systems. Some activities were done in quite effective and efficient ways.
WFUMB COEs have been increased in number and now WFUMB has 19 COEs in all six regions of member organizations. Various WFUMB educational activities were delivered online. WFUMB website has been improved markedly and the WFUMB newsletter 'ECHOES' has been revitalized and is being published regularly with enriched contents. As the president of WFUMB, I would like to express my sincere appreciation to all WFUMB leadership members who devoted their precious time and efforts to WFUMB.   
AS the outgoing president, I am pleased to transfer my duty to our incoming president, Cristina Chammas, and members of the new leadership, with all the best wishes.
Seung H. KIM
May 28, 2021

Introducing WFUMB's new President
Firstly, I want to thank all members of World Federation Board, both Executive Bureau and Adminstrative Council, specially to Seung Kim, Christian Nolsoe and Leandro Fernandez, to name, encourage and support me to this term.
All of you, members of the World Federation can have in your mind that my management will be filled with determination, striving to pursue what is right, without self-righteousness, shared unity, to grow in strength, without pride in self and to be a person-of action and not just words. As our president, Seung H Kim told us previously, the whole world has passed through a pandemic period of continuing challenges and changes.
We have sensed it with the impact coming upon the continents of the Earth. In the swift rush of great events, we find ourselves groping to know the full sense and meaning of these times in which we live.
We bring all our wit and all our will to meet the purpose of strengthening our dedication and devotion to the precepts of the World Federation.
Dr Seung Kim  faced a special challenge and led WFUMB through a difficult period, I really appreciate his acquired knowledge and  cooperation in my term.
Under the slogan 'Ultrasound Connection', the committees are being launched to provide the necessary leadership.
They should unite, interact and complement each other. I propose, monthly virtual meetings, with each Committee, when some goals will be distributed and evaluated always with one unique flag, Ultrasound Connection! All of us count much on this mission!
I am eager to unify management, with purpose and resolve, carrying principles into practice. I am honored to be President of this huge named Federation. You may count on my force and vigor. I look forward to working with all of you for the next 2 years. Thanks everybody for your support!
Cristina Chammas
WFUMB President 2021 – 2023



WFUMB Elections

Elections for 2021-2023 were held on 28th May 2021. For individual bio's view the Executive Bureau and Administrative Councillors on the WFUMB web site.

Your WFUMB Committee Chair Person's for 2021 - 2023


EFSUMB Report
Adrian Saftoiu (Incoming EFSUMB Administrative Councillor)

Despite the pandemic the last term has seen changes in EFSUMB with new Societies joining, individual members from around the world and requests for affiliation. The website has been vastly improved and provided an open access area for COVID19 material. EFSUMB has introduced dedicated email addresses to help identify spam. New safety information features on the website. There were concerns about visitor numbers falling with the areas closed on the website only open to EFSUMB members but in fact 2020 saw increased visitor traffic and the 2021 analysis shows hits similar to the previous period with particular increased viewing of the webinar archive. The Education and Professional Standards Committee has finalized the paper on Professional Standards, the GIUS 7-part guidelines are completed as well as the Bosniak Cysts Position paper.
2021 will see the publication of the PoCUS Part 1 guidelines and 2 papers on MSK guidelines and an update on the Dynamic CEUS Guidelines Multiparametric US Guidelines on Pancreas, Liver and Small Parts (Breast, Thyroid and Testis) are underway. Despite the postponement of EUROSON EFSUMB has hosted the Young Investigator Award with an online session hosted immediately before the Board meeting which produced two winners: Sophie Morse, UK with a presentation entitled 'Improved drug delivery to the brain with Rapid Short-Pulses of focused ultrasound and microbubbles'and Rares Craciun, Romania for a presentation on 'Ultrasound Guided Microwave Ablation and Transarterial Chemoembolization for Unresectable Solitary-Nodule Hepatocellular Carcinoma – a Head-to-Head Survival Comparison'. The abstracts and short CVs of the winners can be read in the EFSUMB/EHU Newsletter Issue 4 next month https://efsumb.org/newsletters-from-2021/
Webinars have continued during the pandemic and 2021 will see more than the 11 planned webinars, 6 supported by Bracco and 3 by Samsung, 2 by GE and we invite other companies to make webinar proposals.
The Student Committee have been active and introduced the well visited Student Image challenge https://efsumb.org/student-image-challenge/
EFSUMB Election Results for 2021- 2023
EFSUMB Executive Bureau 2021-2023
EFSUMB Safety Committee (ECMUS) 2021-2023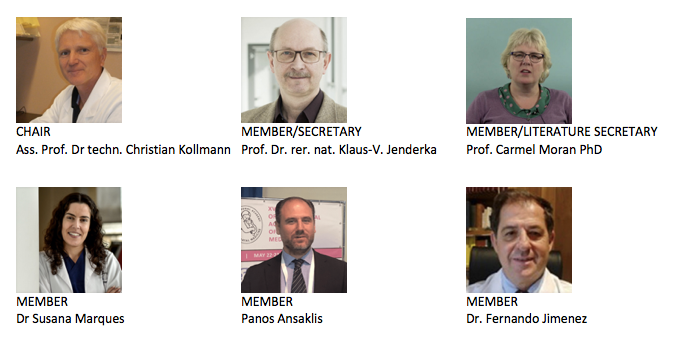 EFSUMB Publications Committee 2021-2023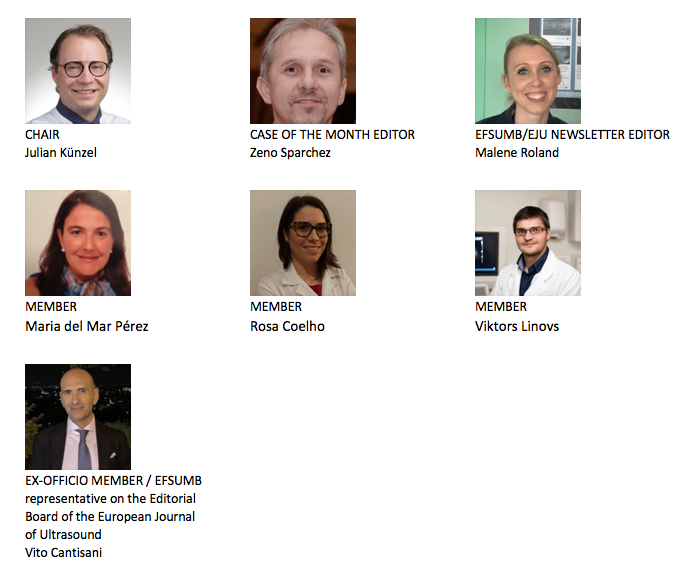 EFSUMB Education & Professional Standards Committee 2021-2023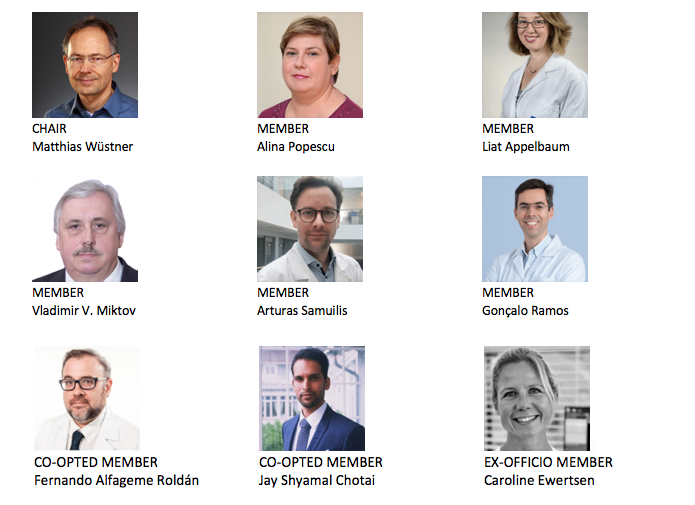 EFSUMB Students Committee 2021-2023


FLAUS Report
Jorge Rabat S.  MD

During the period from June to December, FLAUS and its affiliated Societies carried out 55 academic activities and 3 Scientific Congresses online.
This year FLAUS begins with a series of Conferences on POCUS in cooperation with INTELEOS, in our Continuing Education project for Ultrasound Certification in Latin America.
The first Webinar refers to POCUS: LUNG, dictated by Dr. Jorge Rabat with the moderation of Dr. Leandro Fernández on March 10.


WFUMB Ultrasound Book
Dieter Nürnberg


Some years ago, when traveling was still possible, our colleagues who worked and taught in the WFUMB COEs asked us for actual educational material, especially e-learning material.
Several years ago, E. Buscarini, H. Lutz and P. Mirk published the WFUMB Manual with the support of WHO to bring ultrasound everywhere. But shipping of printed books was expensive and tortuous, and not everybody could get their own book. We also discussed if it is really necessary to publish a new book? There already exist enough good books, it seemed not useful to ´reinvent the wheel´.
In summary, we thought this is a big opportunity to bring experienced people together, to implement a WFUMB project, using modern modalities.
The response was overwhelming, 68 authors & co-authors from all 6 WFUMB federations, from 10 COEs and from 27 different countries contributed and shared their knowledge. They worked very enthusiastically and rapidly and in less than one and half years they helped us to implement our WFUMB Ultrasound Book. The idea of the book was to start with basics, sono-anatomy and examination technique, followed by chapters about the sono-pathology. The main topic is abdominal ultrasound but in 37 chapters we also looked into other regions like thorax, vessels, or thyroid. In additional chapters about specific topics we look together ´beyond the garden fence´. Some of those chapters contained nearly 1000 fantastic images and references involving hard work, that we will offer them in a long version on the WFUMB website.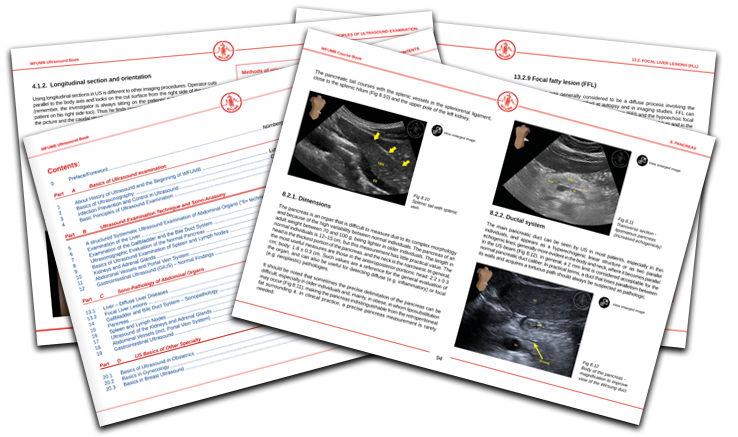 In the chapter boxes you can find special ´tips & tricks´ for your further work. At the end of every chapter, you can find typical video clips illustrating the content – overall more then 500. Because it is an educational book all authors give only limited advice for ´recommended reading´.
Many thanks to all authors for their contribution and the fantastic images and videos. The authors take the responsibility for the content. While each chapter has an individual style we have used the same structure for each chapter. We are sure, you will enjoy reading and following the course.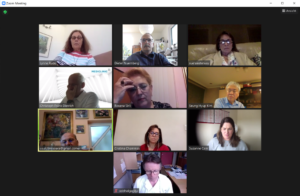 We invite you to work with our WFUMB US Book and say thanks to WFUMB to realise the book with WFUMB resources and without cost for readers. Special thanks to Roxana Sirli, our organisation heart for the great work. Thanks to Co-editors for extensive discussion about content and style. Great thanks to Lynne Rudd and Suzanne Cain for their abundance of patience and creativity. We hope you will embrace this WFUMB Course Book. Please give your feedback as we want to make the book better with corrections and advice from readers and authors.
It was really a pleasure to work together with so many competent ultrasound enthusiasts from all over the world.
Dieter Nürnberg
On behalf of the Editors
WFUMB Introduction to Ultrasound Techniques in pregnancy 

With so many face-to-face meetings and courses cancelled over the last 12 months, WFUMB have been concentrating on providing as much up-to-date learning material on the website. Along with the development of the WFUMB Ultrasound Book and regular webinar events, we are currently updating our Obs/Gynae Teaching module 'Introduction to Ultrasound Techniques in Pregnancy'.

This module was created using Flash Animation programme techniques many years ago but the FLASH Player is now obsolete and no longer runs on modern browser. WFUMB's Web Administrator is currently rebuilding the whole module using latest html5 techniques for it to run interdependently on all computer / tablet & smart phones.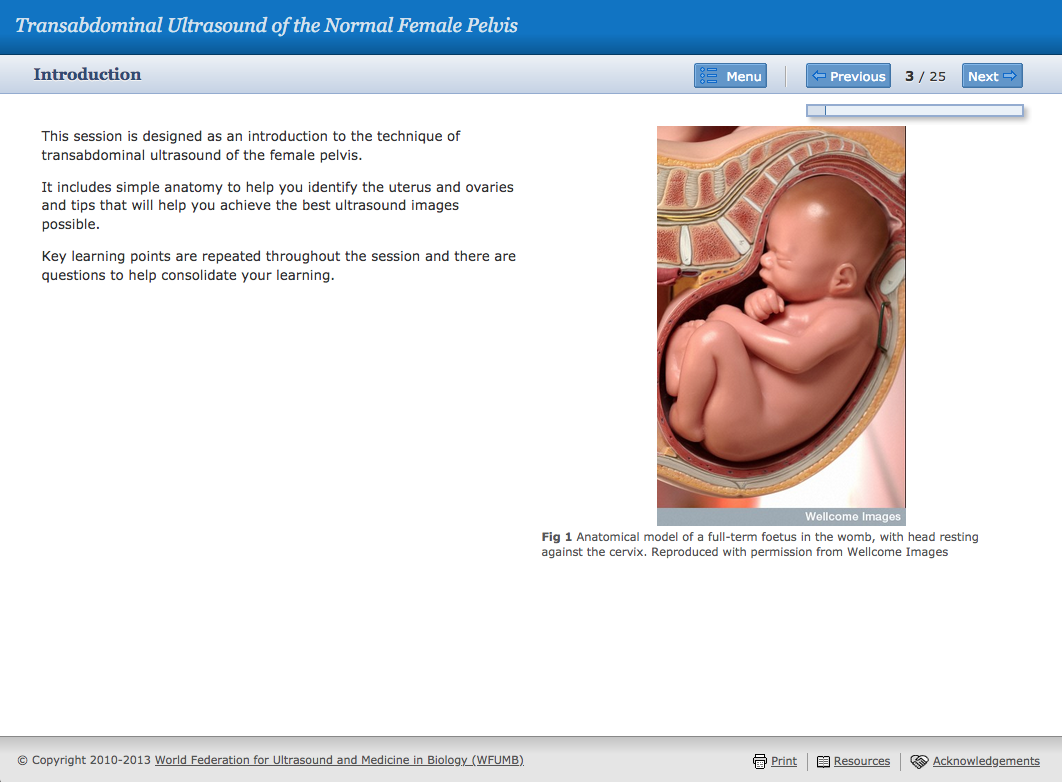 This will be a great addition to our online material and we look forward to publishing the updated platform soon. Development is going well and the newly updated module will be ready in the Autumn of 2021.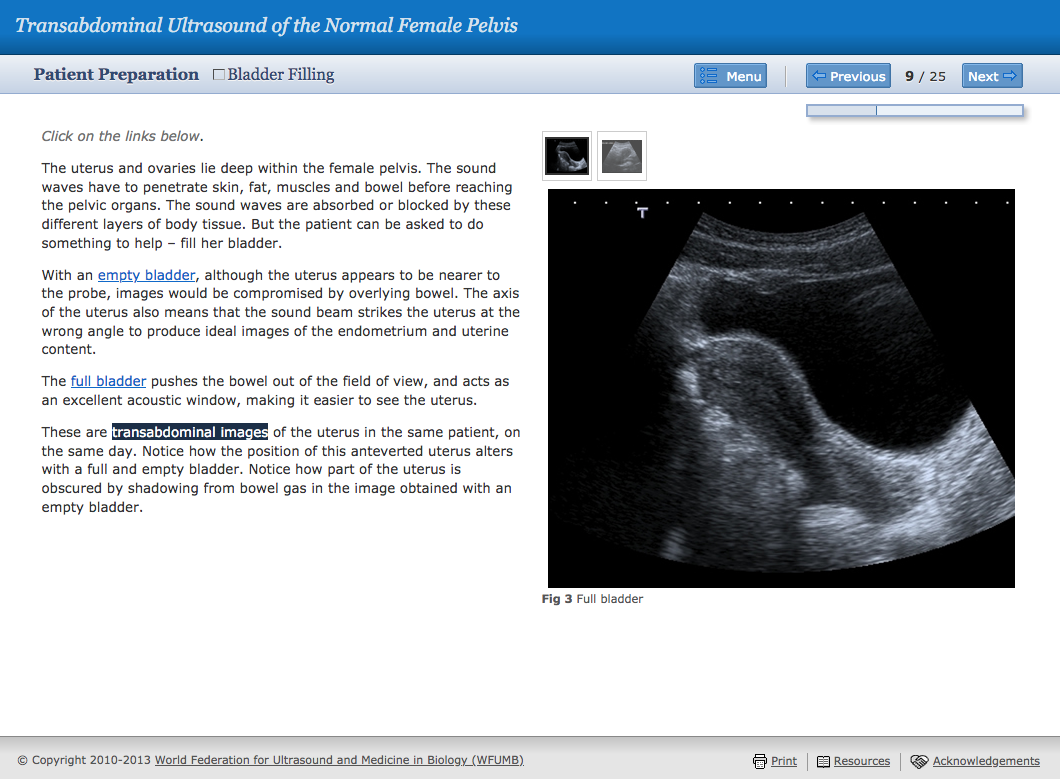 ---


ASUM Report
Fredrick Joshua


ASUM is busy planning for our 50th conference to be held in Sydney. To stay up to date with the program and celebrations, visit our conference website https://conference.asum.com.au/. We are excited to share the celebrations for this significant milestone and the many members who have contributed to this success. ASUM would like to sincerely thank and acknowledge our scientific committee for their ongoing commitment to ultrasound education and ASUM2021.
ASUM CONNECT
We are thrilled to have launched ASUM Connect with the welcome comments from our President, Dr Karen Mizia:
"In creating our strategic plan in February 2020, we anticipated the need to build an ultrasound community. While we did not anticipate the many unexpected challenges and extent of the issues arising in 2020, it's even more pertinent that we provide members with a private platform to: communicate around shared professional interests; share knowledge; seek support; network; and learn. Relationships and connection to others was certainly one of the most valuable lessons we were all able to take from 2020."
AJUM
The Australasian Journal of Ultrasound in Medicine has welcomed a new Editor in Chief, Prof Gillian Whalley. Prof Whalley has a strong history in ultrasound, having trained as a cardiac sonographer in 1985.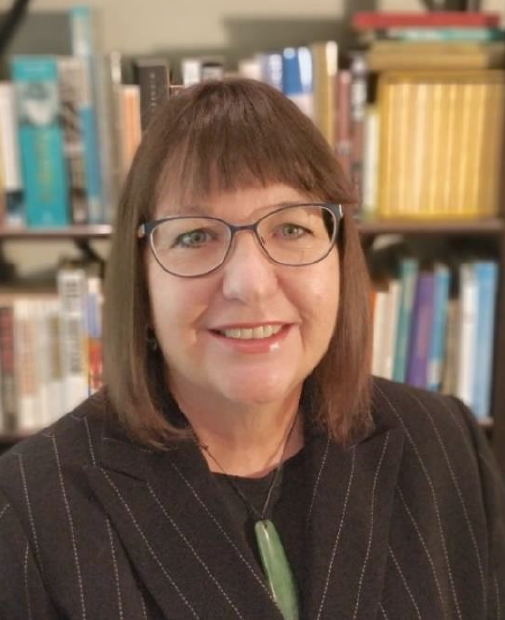 Her research work began early in her career and she has since published over 150 journal papers. Prof Whalley has served on a number of international journals, and as an Associate Editor with AJUM since 2018.
Following 10 years of service to AJUM as Editor-in-Chief (EIC), we thank and acknowledge the considerable contribution of A/Prof George Condous. A/Prof Condous has provided leadership in the growth and development of the journal, achieving multiple indexation listings and moving to a global publisher to establish AJUM for continued success.
EVENTS
Our annual New Zealand Conference is scheduled for 31 July to 1 August in Hamilton, New Zealand. While our New Zealand members, and many of our Australian members, will be attending in person, we will be live streaming the event.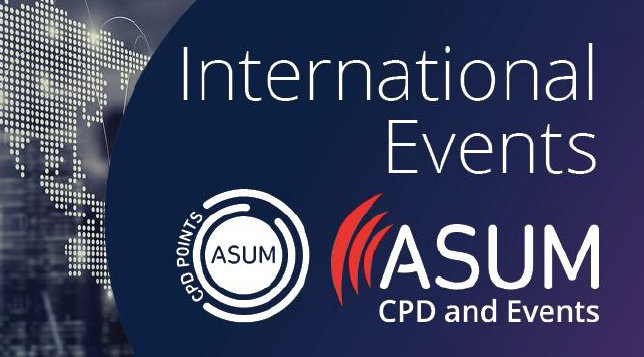 Click here to find out more and to register for live streaming (and receive access to the recordings for 45 days after the event).
In March we held our annual Surf Sand & Soundwaves event, face-to-face and live streaming the three concurrent specialty topics in Cardiac, Gynae (specifically endometriosis) and Musculoskeletal ultrasound. Recordings were made available post event with many registrants subscribed to watch more than one of the recordings. We thank our generous presenters for volunteering their weekend to provide quality education for improved patient outcomes. We also thank our corporate sponsors, Philips, GE, Canon, Janssen and Tristel for their ongoing support of ASUM and ultrasound education.
OUTREACH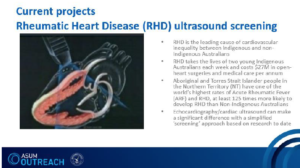 ASUM Outreach is busy planning many new initiatives to support regional and remote areas in need of access to ultrasound services.
ASUM continues to support Outreach initiatives and consider options to deliver online education where appropriate, supporting education to promote ultrasound excellence.
EDUCATION
ASUM is greatly appreciative of the many members who volunteer their time to support ultrasound education. Whether on an education committee, as an examiner, trainer or supervisor, they continue to make significant contributions with their expertise and time to support the Society and those currently studying ultrasound programs with ASUM.

WFUMB 2022 in Timișoara, Romania
The World Federation for Ultrasound in Medicine and Biology (WFUMB) are pleased to invite you to Timisoara, Romania for the 18th WFUMB Congress. This will be held from 25 – 28 May, 2022 at Timisoara Convention Center, Str Marasesti nr 1-3, 300086, Timisoara, Timis, Romania.
The event web site is already up and running and you can Register now for this exciting event > https://wfumb2022.com
The latest multi page leaflet about this event, including topics covered, invitations from WFUMB Committee, detailed explanations on Timisoara & Romania and registration can be found here >>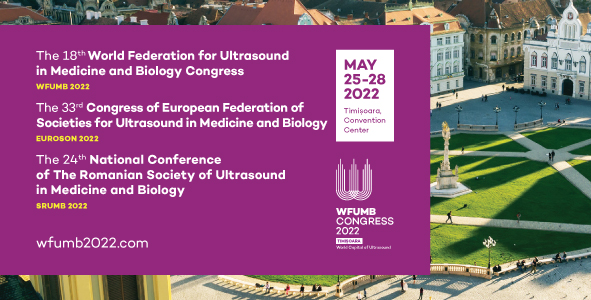 WFUMB Web site Report
Suzanne Cain

WFUMB's web site has continued its upward trend of site hits with visitors channeling from not only our Member Society sites and Google searches but from our daily tweets and posts on social media. Our overall audience engagement is up by 243%

.
Our visitor numbers average 50,000 per week with the most viewed areas being our Interactive Image of the Month, Centres of Education (COE's) and latest Webinar presentations. 


We are extremely lucky to have such a dedicated team of professionals who are kind enough to spend much of their precious time in taking part in webinars and producing and collaborating on education and teaching materials to place on our site. 



The latest collaboration is the WFUMB/EFSUMB Student Monthly Webinar event which is already showing promise of higher than usual numbers and we hope to build on this as we extend our advertising reach of this new section of the site.

With the recent introduction of our WFUMB Ultrasound Book and the upgrades taking place on our Obs/Gyne Video Platform, we hope to continue this upward trend and deliver further additional material and upgrades throughout the next 12-18 months.
WFUMB welcomes your input!
If you have any suggestions for new material or believe we are missing valuable teaching aids, why not drop our team an email on webadministrator@wfumb.org



WFUMB Student Webinar
Tudor Moga, Dieter Nürnberg
World Federation for Ultrasound in Medicine and Biology had a premiere this month by organizing the first Ultrasound Webinar dedicated for students and young doctors. The project was initiated by Prof. D. Nurnberg -WFUMB Student Education Task Force (StedUS TF) and it consists in a series of webinars where renowned physicians and researchers in the field of ultrasound are invited to give their presentation in a more "student friendly" manner.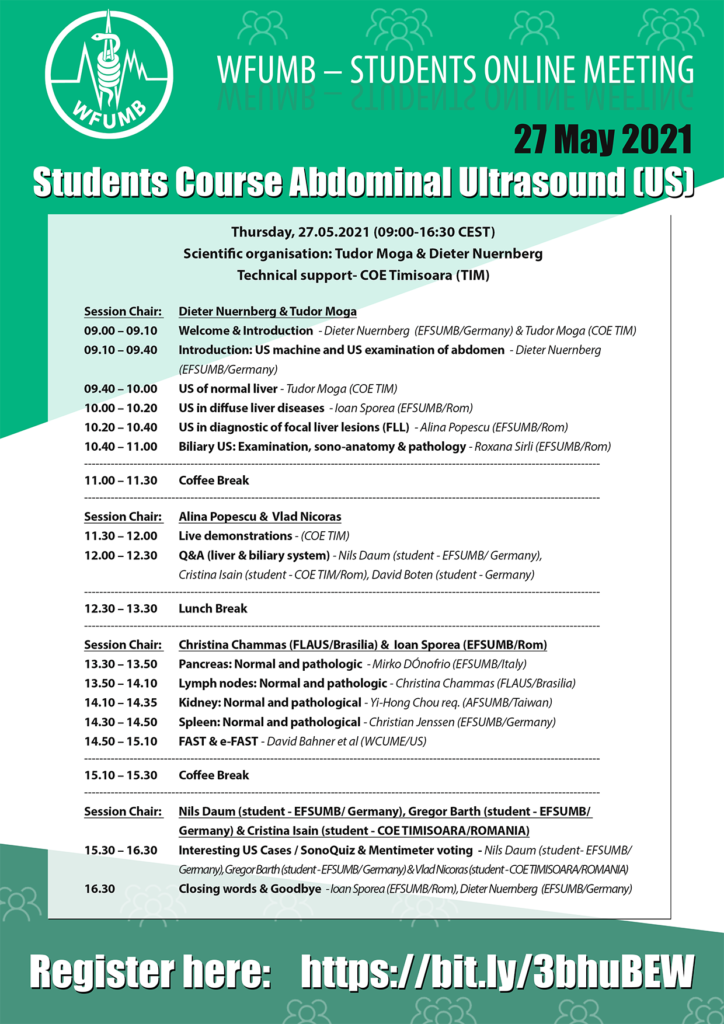 The first webinar held in 27th of May, included lectures about abdominal ultrasound evaluation and introduced the students into the complex world of ultrasound evaluation. Basic device settings and examination techniques were explained as part of introduction followed by the systematic evaluation of the abdominal organs. Normal and pathological aspects of the abdominal organs were presented and together with a comprehensive live demonstration performed by Prof. I. Sporea, assembled a full picture of a basic ultrasound evaluation. As the method is being ubiquitous used, an emergency ultrasound evaluation like FAST and e-FAST scanning seemed to be an attractive topic for students.
The first Student Webinar endorsed by WFUMB was of great success among students and young doctors, with an audience of nearly 150 students all over the world including 15 lecturers & chairs from 3 federations and 6 countries. Especially Prof. Christina Chammas, the new president of WFUMB showed through her contribution that students education will be an important task for WFUMB in the future.
WFUMB StedUS TF is planning to organize a series 90 minutes Student Webinars each month with different interesting topics dedicated to future ultrasound practitioners. Big thanks to the lecturers and to the students who were actively involved and brought their contribution to the webinar. 
Looking forward to new ultrasound events!

Student Webinar events take place every month on a Thursday 14.00 CET. View the next Student Webinar event by visiting here >



Bangladesh COE Report
Kanu Bala

24th Workshop of the World Federation for Ultrasound in Medicine and Biology [WFUMB] was held on 5 & 6 March 2021,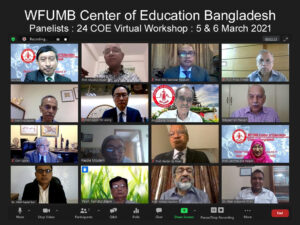 Friday & Saturday. Due to Corona-time the workshop was organizied virtually as a webinar.

Prof. Byung-Ihn Choi-South Korea, Director of the WFUMB COE Asia; Prof. Kanu Bala-Bangladesh, Director of the WFUMB COE Bangladesh; Prof. Kowk Yin Leung-Hong Kong, Chairman of the AFSUMB Education Committee; Prof. TLN Praveen-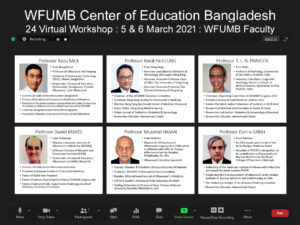 India, Chairman of AFSUMB Congress Committee; Prof. Daniel Makes-Indonesia, Director of the WFUMB COE Indonesia; Prof. Musarrat Hasan-Pakistan, Chairman of the AFSUMB Archive Committee; and Prof. Durr-e-Sabih-Pakistan, Chairman of Asian Board of Nuclear Medicine joined as WFUMB Faculty. BSU's President Prof. Mizanul Hasan formally inaugurated and concluded the program. Bangladesh Atomic Energy Commission Chairman Prof. Md. Sanowar Hossain was the Chief Guest. BSU Secretary General Prof. Jasmine Ara Haque conducted the programs.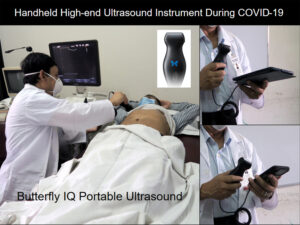 It was a "Leading Edge Ultrasonography" program with many new useful topics. Areas covered were [a] Fetal Anomalies, [b] Gynecology, [c] Lung Ultrasound, [d] Scrotal Ultrasound, [e] Emergency Ultrasound, [f] Neck Ultrasound, and [g] interventional Ultrasound. At the end of the each day's session there were question and answer sessions.  A good number of participants from India, Pakistan, Sri Lanka, Hong Kong, Indonesia, Phillipines, and Bangladesh joined and enjoyed the programs. The programs were live telecasted in Facebook. After editing, the recorded program will be available for interested doctors.
The organizers would like to thank the WFUMB, Resource Personnel, Panelists, and Participants for successful completion of the workshop.  
Prof. Kanu Bala MBBS, PhD, FRCP
Director, WFUMB COE Bangladesh



WFUMB Annual General Meeting

During the very successful Ultrasound Workshop Day on the 28th May 2021, WFUMB's Annual General Meeting took place. Along with all usual AGM duties the installation of new President and announcement of Committee Chairs took place. Elections of the Administrative Councillors also took place – you can view our new committees at the top of this page.

For the full AGM Meeting Minutes please click here >>
Next Meeting: General Assembly WFUMB 2023 Muscat, Oman 4-7 November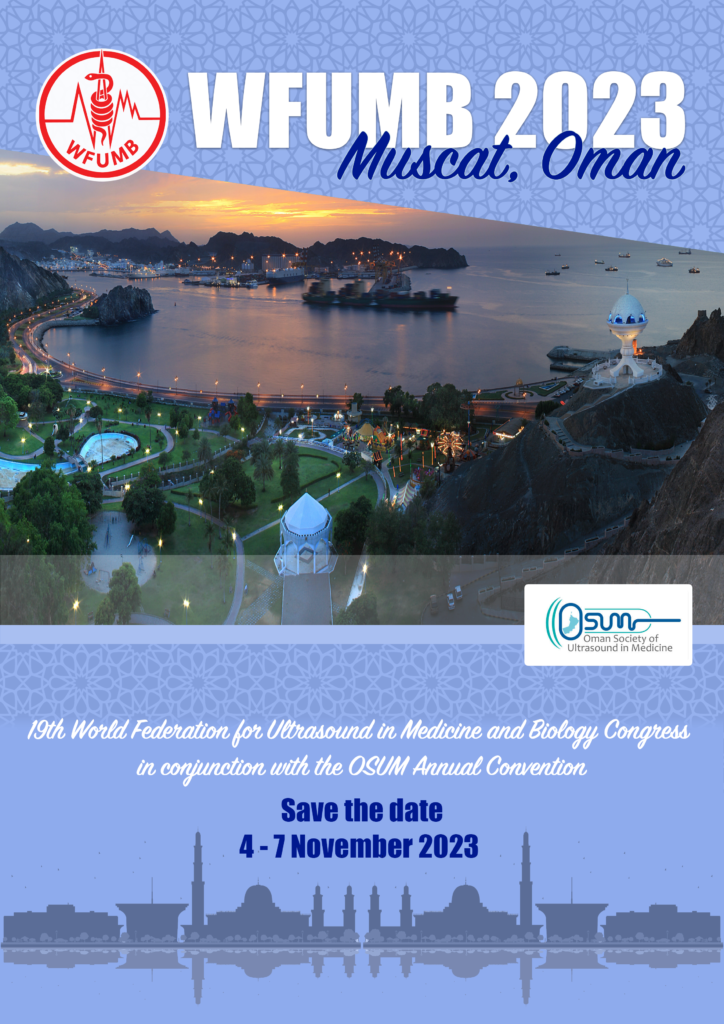 WFUMB 2023, Muscat, Oman
The 17th World Federation for Ultrasound in Medicine and Biology Congress in Conjunction with the OSUM Annual Convention
4-7 November 2023 – SAVE THE DATE!



Butterfly and LeSono Handheld Devices

Since we reported on the great news of the agreement between WFUMB and the Butterfly company, (ECHOES Dec 2020) our organization has been working hard to distribute the Butterfly iQ® devices to as many of our Centers of Education, COE, as possible.
As our COE's have received the devices and have begun using them in clinical practice, we have received some great images and videos demonstrating their uses.
Trocanteric procedure
Video supplied by Iván Q. – Peru COE
Liver Carcinomatosis
Video supplied by Iván Q. – Peru COE
FNA in right thyroid nodule
Video supplied by Iván Q. – Peru COE



WFUMB Webinar Day

WFUMB EDUCATION
Sadly due to the ongoing COVID-19 pandemic, the WFUMB 2021 Congress in Timisoara, Romania, was postponed. In its place WFUMB presented a virtual Ultrasound Workshop Day on the 28th May 2021. The program spanned 8 hours with 19 presentations from experts from across the world. The  event was a great success.
A huge thank you to all WFUMB Members who took part and participated to make this such a success.


MASU Report

In this ECHOES Report from MASU we give a special thanks to an integral member of the WFUMB Family for many years – Professor Hassen Akéba GHARBI of Tunisia. Hassen has for many years dedicated his time to WFUMB including his Presidency in 2013-2015. We are very grateful for his huge contribution.

Professor Hassen Akéba GHARBI
Tunisia
——
World Federation for Ultrasound in Medicine and Biology- WFUMB – President -2013–2015
Born in Thala, Tunisia, in 1939, Dr Gharbi is a Professor of Radiology and a Professor in medical Biophysics.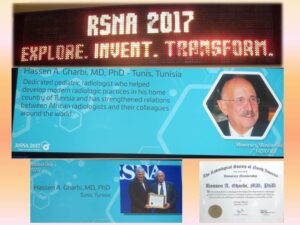 He is involved in several teaching programs mainly in ultrasound and in Paediatric Radiology, in Tunisia and in several countries around the world, not forgetting Africa.
Below are some important positions held by him:

• He was the Founder and Director of the Tunisian National Center of Radiation Protection (1970-1989).
• In 1986, he was the founder and first President of MASU – Mediterranean and African Society of Ultrasound.
• Member of WFUMB – World Federation of Ultrasound in Medicine and Biology since 1992.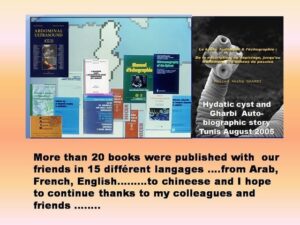 He has conducted several International courses around the world in developing countries including Tunisia, Algeria, Libya, Morocco, Egypt, Palestine, Turkey, Bangladesh, Kenya, Tanzania, Chad, Uganda, Yemen, Cyprus, Syria, Pakistan, Cameroun, Afghanistan, Sierra Leone, Zambia, Rwanda, Thailand and Ivory Coast. Initially, these were done under the auspices of the WHO and later under the auspices of MASU and WFUMB.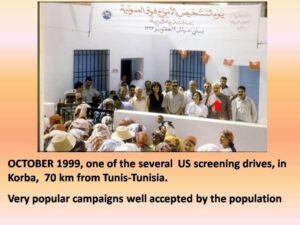 In 1970, he created the first paediatric radiology department in Tunisia and this was the first in North Africa.  His main interest and original publications were dedicated to Hydatid diseases (imaging, epidemiology and treatment); in fact, his US classification of Hydatid cysts first appeared in "Radiology" in 1981 is still used around the world. He has published more than 20 books, dedicated mainly to paediatric radiology but also to Tropical infectious diseases such as hydatid diseases.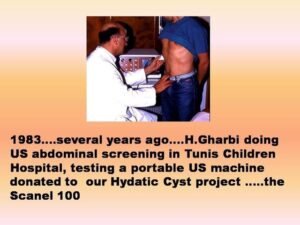 He has published more than 130 articles in national and international journals, and he is a member of the Editorial board of several International Reviews
Dr Gharbi has received several awards recognizing his contribution and promotion of radiology in developing countries.
Major Research Interest:
Tropical diseases mainly hydatid diseases.
Ultrasound in Tropical diseases
Ultrasound in paediatric age: bone, digestive tract, ….
Radiation – Protection
Education in Radiology mainly in developing countries
HONORARY MEMBERSHIP IN MEDICAL ASSOCIATIONS
Honorary member of the Italian Society of Radiology (SIRM), Milano-Italy 1988.
Honorary Member of The Egyptian Society of Radiology and Nuclear Medicine. ( ESRNM) Cairo- Egypt, 1990.
Honorary Member of the Italian Society of Ultrasound (SIUMB), 1991.
Honorary member of the French Society of Radiology (SFR), Paris- France, 1997.
Honorary President of Tunisian Society of Radiology, (STR).
1998 to 2013
Honorary member of American Institute of Ultrasound in Medicine, (AIUM) Montreal, Canada, 2003.
Honorary Member of the Society for Pediatric Radiology, (SPR) Scottsdale Arizona – USA, 2008.
Honorary Fellow of the American College of Radiology, (ACR), Washington DC- USA, 2010.
Honorary Member and Merit Awards of the International Association of Hydatidology, Beijing-China, 2011.
Honorary Member of Korean Society for Ultrasound in Medicine, (KSUM) Seoul, South Korea, 2013.
Honorary member of the European Society of Radiology, (ESR), Vienna- Austria, 2016.
Awarded Antoine Beclere Medal from the International Society of Radiology, (ISR), Buenos Aires- Argentina, 2016.
Emeritus member, International Society for Strategic Studies in Radiology, (ISSSR), Vienna- Austria, 2017.
Honorary member of the Radiological Society of North America, (RSNA), Chicago- USA, 2017.
Honorary member of the Society Romanian of Ultrasound in medicine and Biology, (SRUMB), Brasov-Romania, 2018.
Awarded, Certificate of Appreciation, American College of Radiology, (ACR), Washington DC-USA, 2018
Honorary member of the Israel Society in General Ultrasound in Medicine (ISDUM) Jerusalem-Israel, 2018.
Honorary member of the Algerian Society of Radiology and Medical Imaging(SARIM), Algiers- Algeria, 2018.

MEMBERSHIP OF MEDICAL ASSOCIATIONS
President of Tunisian Society of Medical Sciences (Société Tunisienne des Sciences Médicales),(STSM) : 1981- 1984.
General Secretary of Tunisian Society of Radiology (STR): 1970- 1983, 1986 – 1991.
Founder and President of the Mediterranean and African Society of Ultrasound: (MASU). 1986-1992.
Founder and President of the Medical Society of Electronics and Biomedical Engineering- – (Société Tunisienne D'Electronique Médicale et de génie Biologique ) (STEMGB): 1971 – 1976.
President of Tunisian Society of Radiology: (STR) 1991 -1994 , 1994- 1998
Member of the French Society of Ultrasound ( SFAUMB) – Société Française d'Application des Ultrasons à la Médecine et à la Biologie- since 1985
President and Founder of the Tunisian Society of Ultrasound and Biology Société Tunisienne d'echographie et de Doppler ) (STED) 2004-2009- , then Honorary President since 2009.
Member of The French Society of Paediatric imaging (SFIP) since 1980
Member of the European Society of Paediatric Radiology (ESPR), since 1973
Member of Radiological Society of North America, (RSNA), since 1993.
World Federation for Ultrasound in Medicine and Biology, (WFUMB) Board member since 1992, then President 2013-2015.
President and Founder of the African Society of Radiology, (ASR), 2011-2015.





More Ultrasound stories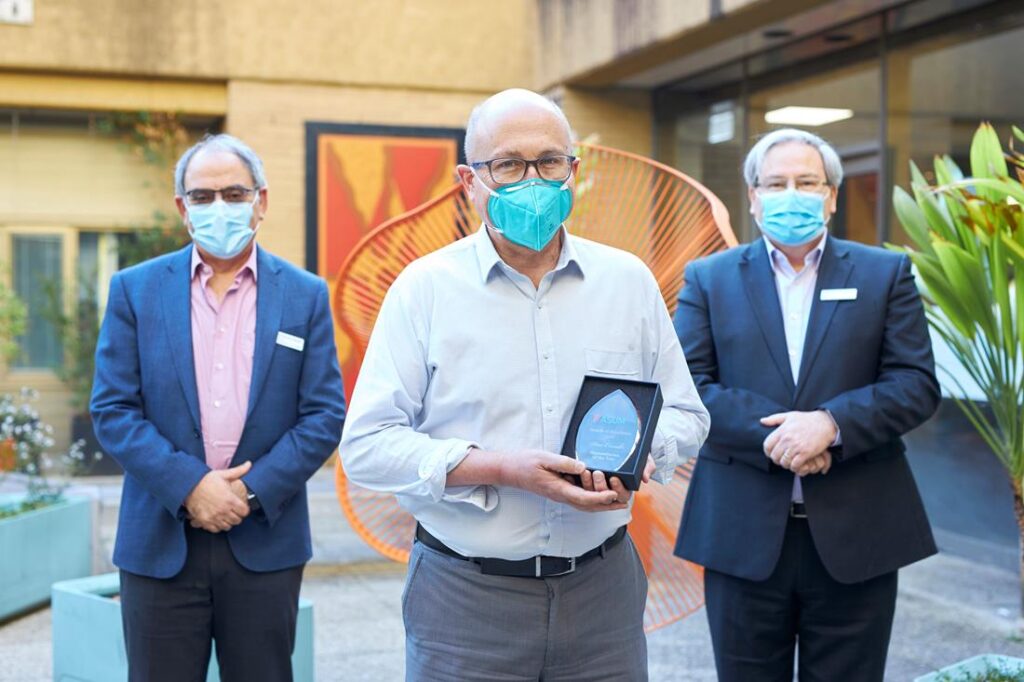 ASUM's award program recognising and rewarding outstanding achievement
In April we heard the wonderful news that Peter Coombs (middle in above photo) had been awarded the 2019 Humanitarian Award winner.
WFUMB has had the pleasure of working with Peter Coombs in the past and his great work can be seen in the July 2019 'OUTREACH SPECIAL' Edition of Echoes
Congratulations to Peter for this well deserved award!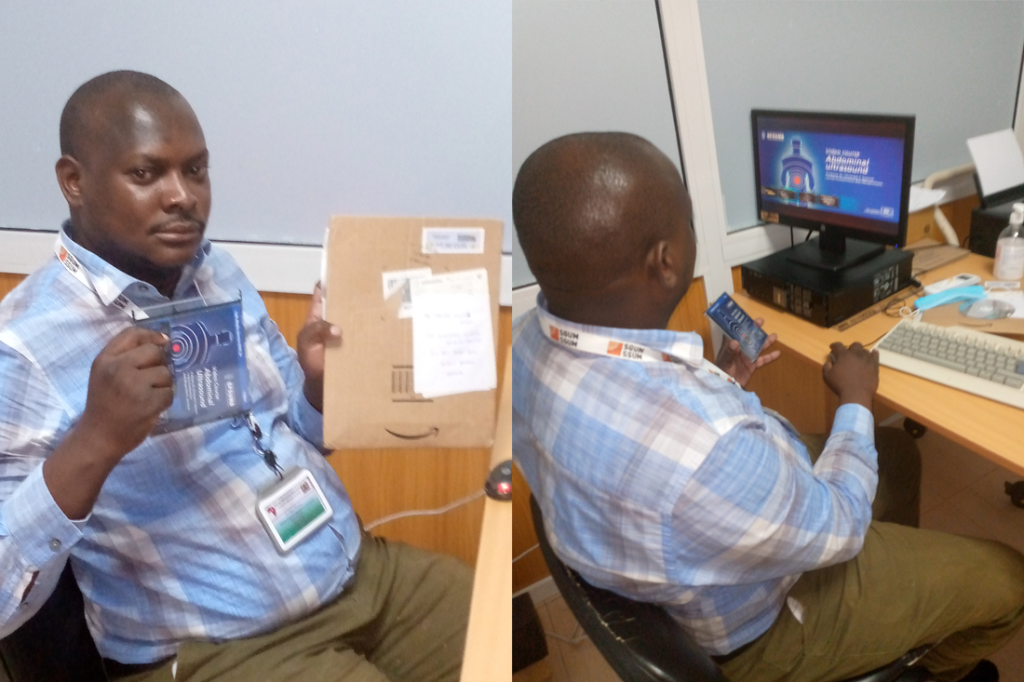 Greetings and Appreciation
In June, WFUMB's Administrative Manager received a lovely email from a recipient of the Video Course DVD. Dr James Mkoma and the entire staff at KINONDO KWETU Health Services Center were so pleased to receive the Training DVD.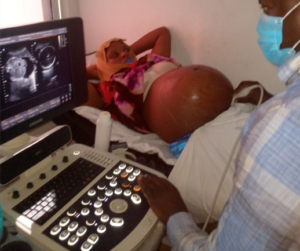 " It is my pleasure to inform you it will really help me with revision of abdominal ultrasound and also improve the quality reports in my Ultrasound scan work . I welcome you to Kenya to start short refresher ultrasound courses for nurses, clinical officer's, specialist, physicians and gynecologist, radiographers, and sonographers I jointly put all my efforts to make the program run smoothly. I request you to visit Kenya and our hospital KINONDO KWETU health services and see what we doing to the community.
Ultrasound has been a tool to help reduce martenal, neonatal deaths among many helpless pregnant mothers here in Kenya, especially in village communities like KINONDO where it is very difficult for a pregnant mother to  get at least one obstetric scan before birth. "

Mourning the death of
Dr. Morimichi Fukuda (Japan)
Dr. Morimichi Fukuda passed away on April 1, 2021. We would like to express our deepest condolences and express our sincere gratitude.
Here, I would like to show you a part of Professor Fukuda's career, look back on his achievements, remember the deceased, and pray for his soul. Professor Fukuda was born in Sapporo in June 1929. After graduating from Hokkaido University School of Medicine in 1953 and completing a medical practice (internship) at the Sapporo Medical University Hospital in 1954, he became a research assistant in the Department of Internal Medicine, Sapporo Medical University and the Clinical Division of the Cancer Institute, and then became an assistant professor. From 1958 to 1960, he conducted research on "cancer" immunity in UCLA, California, USA. He conducted biochemical research on Cancer Cachexia, and also served as a clinician at the Department of Internal Medicine, Cancer Institute, Sapporo Medical University.
Development of ultrasonic laparoscope and ultrasonic endoscope: Spatial resolution by high frequency probe that breaks the limit in the process of comparative research between diagnosis of hepatocellular carcinoma from the body surface and pathological diagnosis He felt the need to observe and record the lesion from a short distance in order to obtain a good ultrasonic image, and worked on the development of an ultrasonic laparoscope. In addition, he aimed to observe upper gastrointestinal mucosal lesions, submucosal tumors, and lesions of organs in contact with the upper gastrointestinal tract from a short distance with a high-frequency probe using high-resolution ultrasonic images. He has developed an intraluminal ultrasound diagnostic device equipped with a child and have achieved the practical application of an ultrasonic endoscope equipped with an optical endoscope. This transmucosal endoscopic echography method is used not only for the abdominal region such as submucosal invasion of early gastric cancer, submucosal tumor, adjacent hepatobiliary and pancreatic lesions, abdominal cavity, superior intestinal tract, and inferior intestinal artery lesions, but also for circulation. It is widely used for transesophageal ultrasonography such as left atrioventricular lesions in the organ region and transesophageal ultrasonography for mediastinal lesions in the respiratory region, but it can be said to be one of the studies that opened the beginning.
Multicenter interpretation experiment and objective evaluation method of interpretation ability: Real-time automatic with eight large-diameter long-focus probes developed by Dr. Kosoff for manually scanned ultrasound images that often depend on the diagnostic technique of the examiner. We examined the clinical usefulness of the scanning ultrasonic diagnostic device "Octoson" . Although there is a limit to the size of the scanning cross section, real-time automatic scanning is realized by an electronic scanning ultrasonic diagnostic device, and the subsequent application to the device and its multi-organs is based on X-ray images, CT images, ultrasonic images, etc. The project of Ministry of Health, Labor and Welfare, "Research on multiple image diagnosis of cancer" was taken over by the subsidy research group (Fukuda group), and in addition to the development of diagnostic equipment, multicenter research based on image interpretation experiments was conducted, and differences between image facilities and image interpretation methods.  He has paved the way for standardization of diagnostic imaging by disseminating objective evaluations of individual differences in image interpretation ability.
He was Chairman of the International Exchange Committee of the Japan Society of Ultrasonics in Medicine in 1988-1992, Vice-Chairman in 1992-1994, and a member in 1996-1998. During this time, he was the President of WFUMB in 1991-1994. WFUMB94 Sapporo was held as the chairman of the congress meeting in July 2014.
Development of ultrasound diagnosis and ultrasound endoscopy of the abdominal region, establishment of an objective evaluation method for cancer image diagnosis using CT images and ultrasound images by an interpretation doctor at another facility. After retiring from Sapporo Medical University, he was active as an honorary professor and trained younger generations. We believe that these achievements will remain in the future education, clinical research, and social activities of many people who have been influenced by his activities.
Written by Professor Emeritus, Sapporo Medical University, Hiroshi Natori, Translated by Iwaki Akiyama
More can be found on the UMB Journal at https://www.umbjournal.org/article/S0301-5629(21)00302-1/fulltext