How and when did you become involved in ultrasound?
I got interested in US during my Residence in Radiology in the HCFMUSP between 1977/1979. The use of US in Internal Medicine was just beginning, which was my interest at the time. After courses and trips, I introduced US in Internal Medicine in the hospital of the university and quickly this method was widely adopted.
Were there any particular people that influenced your work?
I would mention two people:Francis Weill, a great professor and humanist. He had a huge influence in my first years in ultrasonography.Barry Goldberg, also and great professor and researcher, who contributed a lot in a more mature phase of mine.The two of them became my friends and were also my predecessors in the presidency of the WFUMB.
What were your career highlights?
The foundation of the most important school in the formation of ultrassonographists of the country in the Radiology Institute of HCFMUSP, with the publication of countless papers and books that contributed to the formation of many physitians in Brazil and in other countries. As a remarkable example, I mention the professor Cristina Chammas, my great friend and exceptional professional. We worked together for many decades and now she's the future president of the WFUMB.The presidency of the Radiological and Diagnostic Imaging Society of São Paulo (Sociedade Paulista de Radiologia), Brazilian College of Radiology (Colégio Brasileiro de Radiologia), FLAUS, WFUMB and of the World Congress of the WFUMB in Sao Paulo are part of my history in Medical Societies.Dean of the School of Medicine, University of São Paulo and president of the Hospital das Clinicas Council for two terms and secretary of Health.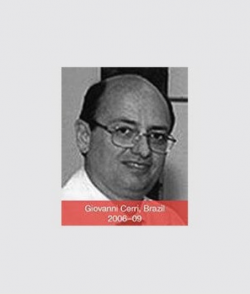 What are your impressions of the ultrasound technology available today?
I had the opportunity of working with the first static US equipment and with the first real-time machine. The transformation of ultrassonography was shocking: the expansion of its appliances, the image quality, the Doppler, the 3D and 4D, the contrasts. The most recent tecnologies with transducers of the highest definition to small parts and the Doppler resolution showed that the technique remains in evolution.
Are you still involved with the ultrasound world ?
Totally involved in the University, in a more leading and mentoring position, of course. And performing ultrasound exams as much as the time and the administrative activities allowed. My mission is to help maintain in our Institute the quality of the education and of the infrastructure that allow us to keep molding amazing practitioners and leaders of the specialty.